UVM Extension Maple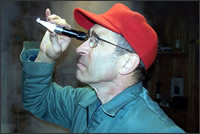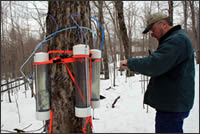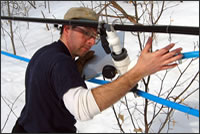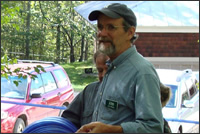 Contacts
George Cook
George.Cook@uvm.edu | 866-260-5603 x102
George Cook is a farm safety expert with many decades of experience in maple and operates his own 120 tap sugarbush. His specialties include instructing beginners in efficient maple production techniques, and teaching sugarmakers how to make value-added products such as maple candy and Indian sugar. .
Dr. Tim Perkins
Timothy.Perkins@uvm.edu | 802-899-9926
Dr. Tim Perkins is director of the Proctor Maple Research Center, and sets the center's research agenda, as well as providing advice and leadership to the maple community.
Brian Stowe
Brian.Stowe@uvm.edu | 802-899-4923
Brian Stowe is the chief sugarmaker and operations manager at the Proctor Maple Research Center. His duties include demonstrating all aspects of a modern maple production facility, from woods management to syrup packing.
Tim Wilmot
Timothy.Wilmot@uvm.edu | 802-899-9926
Tim Wilmot is the full-time extension maple specialist and is also based at the Proctor Center. He conducts research during the sugaring season and writes and gives presentations about many maple related topics. He produces the education program for two of the annual Vermont maple conferences and serves as an advisor to many maple committees.
Last modified September 21 2011 11:48 AM