Family and Health
Parenting
On any given day in Vermont, there are about 90 children waiting in foster care for families to adopt them. Most are school-aged and many have special needs related to the abuse or neglect they've experienced. The Foster Care Program can provide you with information so that you can help a family in your community by opening your home and heart to a child in need and supporting the parents through a difficult time. Additionally, if there is interest in becoming a foster parent, necessary training and additional information is provided in conjunction with the University of Vermont Extension and the Vermont Department of Children and Families.
Find instruction on ...
Family meetings
Nutrition
Adoption and foster parenting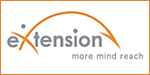 UVM participates in eXtension: A national organization creating rich education for local Extension programs.
Developmental questions and issues
Staying informed
Childcare
Last modified December 10 2013 10:34 AM