Religion Department Profile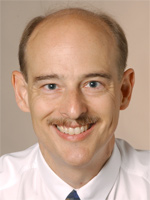 The past few years have been of time of significant change for the Religion Department, with the retirement of Luther Martin and Bill Paden, two long-standing colleagues who served as department chairs for a total of more than thirty years. Part of their enduring legacy has been the fostering of a strong ethos of interdisciplinary conversation among the department faculty. This interdisciplinary orientation is reflected in the diversity of methodologies that our department faculty employ in their research, including field-based ethnographic study, historical analysis, and philosophical inquiry. It is also reflected in the curriculum for our majors and minors, which requires that they engage seriously with multiple theories of religion, and undertake a comparative analysis of a cross-cultural religious dynamic, such as ritualization, sacred sound, religious visuality, or human death practices. The department has also offered courses on an unusually broad range of religious traditions for an undergraduate department, including the study of Islam and African religions.
The department presently stands at an exciting juncture with the arrival of two new faculty members next year. Todne Thomas Chipumuro, who recently received her PhD in anthropology at the University of Virginia, came to the department this past fall as a Henderson Post-Doctoral Fellow, and she is currently teaching a new course on Caribbean religion. In spring 2013 she will join the department as Assistant Professor of Religion, with a joint appointment in the ALANA U.S. Ethnic Studies Program. Her research explores the role of "spiritual kinship" in the sociality of an ethnically diverse evangelical Christian community near Atlanta comprised of African Americans and people of West Indian descent. Her expertise includes diasporic religion, religion in the southern U.S., and the anthropology of Christianity. The department has also just completed a search for a new scholar of Islam, and is very pleased that Ilyse Morgenstein Fuerst, who is currently completing her PhD in Islamic Studies in the Religious Studies Department at the University of North Carolina, Chapel Hill, will join the department in the fall as Assistant Professor. Her research is centered on Islam in South Asia, and her areas of expertise include both Islam and Hinduism, as well as postcolonial theory and religion and nationalism. Her dissertation, which examines the development of Muslim religious identities in precolonial South Asia (fifteenth to nineteenth centuries), draws upon textual sources in Sanskrit and Persian.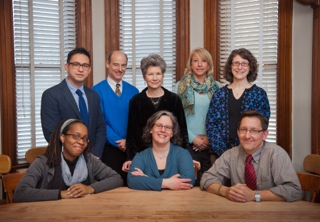 This past year has been a busy time for current department faculty (pictured left to right in front row: Todne Thomas Chipumuro, Vicki Brennan, Thomas Borchert; back row, left to right: Cuong Mai, Kevin Trainor, Anne Clark, Fran Farina, Erica Andrus; Richard Sugarman is on sabbatical and missing from the photo). Vicki Brennan gave presentations of her research on Christian music in Nigeria at the 30th Anniversary Symposium of the Carter G. Woodson Institute at the University of Virginia, at the Walter Rodney Seminar in African Studies at Boston University, and at Indiana University Bloomington's Wednesday Seminar in African Studies. Her article, "Mediating 'The Voice of the Spirit': Musical and Religious Transformations in Nigeria's Oil Boom," was published in May 2010 in American Ethnologist. Tom Borchert spent a month in China and Taiwan last summer supported by a Lattie Coor grant, where he began research on the relationship between citizenship and Buddhist monastic identity in China. His article, "Monastic Labor: Thinking about the Work of Monks in Contemporary Theravada Communities," was published last spring in the Journal of the American Academy of Religion, and he is currently editing a volume of essays on Theravada Buddhism and colonialism, which will be published by the Institute for Southeast Asian Studies, Singapore. Last summer Anne Clark conducted manuscript research in the Biblioteca Statale in Lucca, Italy. Her essay, "Medieval Latin Spirituality: Seeking Divine Presence," recently appeared in the Oxford Companion to Medieval Latin Literature. Richard Sugarman, who is on sabbatical leave this semester, is completing a new book on Emmanuel Levinas, tentatively titled, A Transcending Humanism: Emmanuel Levinas and the Hebrew Bible. Last fall Kevin Trainor was a featured presenter at a symposium on Buddhist, Christian, and African reliquaries and relic practices organized by the Art Institute of Chicago. He was also one of the scholars interviewed in David Grubin's documentary, The Buddha, which premiered on PBS in April of 2010. The department's reputation for engaging and innovative teaching is exemplified in a new service-learning component focused on the teaching of religion in public schools that Erica Andrus developed for her course, "Religion in America." She plans to continue this project when she teaches the course again this fall with the goal of organizing a workshop that will bring together university faculty and educators from the Burlington public schools to discuss the relationships between religion and public education in our community. And finally, Cuong Mai, a scholar of Chinese and Vietnamese Buddhism who teaches courses on Asian religion, brought further distinction to the department as a 2011 recipient of UVM's prestigious Kroepsch-Maurice Excellence in Teaching Award. This past summer he conducted research in Vietnam supported by a grant from the American Academy of Religion.
The Religion Department continues to attract an exceptionally committed and talented group of students to the major. The department's senior seminar offers Religion majors the opportunity to undertake individual research projectson topics that they develop in consultation with the seminar instructor. This spring seniors are researching a wide range of subjects, including the influence of a Protestant ethic on the discourse of environmental activists in the United States, the differential treatment of religious minorities in Bulgaria since World War II, and the recent re-emergence of public religion in China since the Cultural Revolution. Some of our students go on to pursue graduate study in religion; for example, Ben Williams, who was a recipient of the department's Outstanding Senior in Religion Award in 2007, is currently completing his PhD in Sanskrit and Indian Studies at Harvard. Steven Hrotic, another former Outstanding Senior in Religion, completed his PhD in Cognition & Culture at Queen's University, Belfast; he recently returned to Burlington and is currently offering an introductory-level religion course through UVM Continuing Education. Elizabeth McCallion, who was the 2010 Outstanding Senior in Religion awardee and is currently a project manager in UVM's MindBody Clinic, plans to begin a doctoral program in clinical psychology in the fall. The great majority of religion graduates, however, find jobs following graduation in a diverse range of occupations. For example, Matt McLaughlin, a 2008 graduate who is now a producer for New York-based Macula Films, says that his study of religion equipped him to succeed as a film producer by helping him to understand the workings of complex networks of ideas and behaviors. Blaine Billingsley, class of 2009, found a job as a Web designer for a dot.com startup in San Francisco; he attributes his success in landing the position to the broad, integrative perspective that he gained through his study in the department. A second 2009 department alum, Tristan Whitehouse, has begun teaching at the Landmark School outside Boston, a private day and boarding school for students with language-based learning disabilities, where he introduced the school's first course in world religions. A recent mailing to department alumni brought back news of a remarkable range of occupations, including business, management and IT consultants; mental health counselors; professors of English, art history, education, history and religion; an artist-writer; an advocate for Vermonters with disabilities; a military chaplain; a booking agent for performers; a banker; an international development worker; and a national park ranger.
The department continues to sponsor a faculty colloquium series in which department faculty, as well as invited faculty from other departments, present their current research. We recently hosted a presentation by Liz Fenton from the English Department, who discussed her current work on the Book of Mormon. Upcoming events include a public lecture by Wendy Doniger, who is Mircea Eliade Distinguished Service Professor of the History of Religions in the University of Chicago Divinity School and the author of more than thirty books on a wide range of topics related to Hinduism and mythology. Her talk on March 21st, organized by the Religion Department with the support of several departments and programs, will be entitled, "The Magic Ring of Memory and Forgetfulness, in South Asian and European Folklore." On March 27th, Anne Clark will present a talk on medieval Bibles and their readers as part of a panel commemorating the 400th anniversary of the King James Version of the Bible, held in conjunction with an NEH-funded traveling exhibition at St. Michael's College. She and Erica Andrus are also collaborating on a presentation for the Fleming Museum's "Up in Smoke" exhibition; their talk, "Holy Smokes: Pipe, Incense and Religion," is scheduled for the museum's Noontime Café series on April 18th. Check the Religion Department web site under News and Events for announcements of future activities.