7th ANNUAL STUDENT CONFERENCE ON RACE, GENDER AND SEXUALITY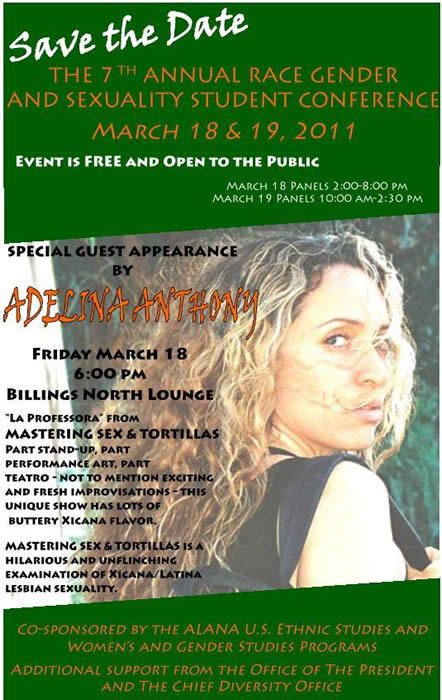 Performing "La Professora" from Mastering Sex & Tortillas! on Friday, March 18, 2011 at 6:00 p.m. in Billings Lounge North. The performance is FREE and open to the public.
Part stand-up, part performance art, part teatro, not to mention exciting and fresh improvisations--this unique show has lots of buttery Xicana flavor. Mastering Sex & Tortillas! is a hilarious and unflinching examination of Xicana/Latina lesbian sexuality.
A favorite performer on the university/college circuit, Adelina Anthony has performed on a variety of campuses: UC Riverside, UC Davis, UCLA, UTEP, Princeton University, CSUN, Stanford University, Smith College, and University of Southern California, to name just a few. As an educator/cultural activist, Adelina has over 15 years of experience mentoring and instructing on political teatro, acting, and creative writing to youth of color and lesbian/gay/bisexual/transgender/two-spirited communities of color, as well as university students -- of all colors.
The Conference Schedule dates are Friday, March 18, panels from 2:00-8:00 p.m., and Saturday, March 19, panels from 10:00 a.m.-2:30 p.m.
All panels will be in Billings North Lounge.
Co-sponsored by the ALANA U.S. Ethnic Studies and Women's and Gender Studies Programs. Additional sponsorship fromtThe Office oftThe President and the UVM Office of the Chief Diversity Officer.