Portuguese Program Impacts Students Globally
"Portuguese is an amazing program that tends to fly under the radar. From the moment that I sat down in my first ever Portuguese class till now as a junior, the Portuguese program has made a significant impact on my education here at UVM," says UVM student Asya Cook when asked about the program housed in the Department of Romance Languages and Linguistics.
Interest in learning Portuguese is increasing in the United States. According to the Modern Language Association, the enrollment of university students into Portuguese programs increased about 20 percent over the years 1998 and 2002 and 10.8 percent between 2006 and 2009. Although the number of Portuguese speakers in the US is still relatively small, nearly 280 million people speak Portuguese worldwide. Most of these (over 190 million) are Brazilians.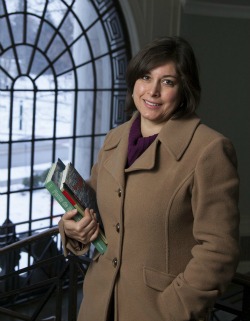 This growth has led to the creation of new Portuguese language programs in American universities, like the program at the University of Vermont, which was inaugurated in the fall of 2009. With an enrollment of approximately 70 students each year, Lecturer Debora Teixeira (pictured) says, "Students of Portuguese at UVM form a diverse mix, with interests ranging from Brazilian music (Música Popular Brasileira, or MPB) to sports, and from environment to business."
The Office of International Education offers several study abroad programs in Brazil and Portugal. According to sophomore Lorena Liñero Lopez, learning Portuguese has"changed my education career because it makes me want to study more of this language and not one of the extremely common ones like Spanish, etc. With four semesters only of Portuguese, I feel completely comfortable to be going to Brazil for study abroad in the spring of '14."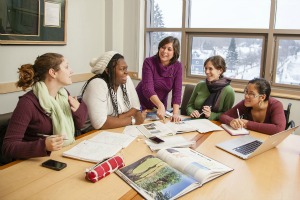 UVM students can also immerse themselves in lusophone (Portuguese-speaking) cultures right on campus at the Casa Luso-Brasileira (Portuguese House) at the Global Village in Living and Learning. Numerous events are organized by the Casa each semester, including the Bate-Papo, a weekly Portuguese conversation table (pictured). "The Portuguese program has inspired me to create the Living and Learning program (Portuguese House) to delve more into the culture. Initiated by the class, I became a student leader," says Asya. "I wanted to learn as much about the language and culture as possible."

Portuguese is currently the fifth most widely spoken language in the world and the third in the Western Hemisphere. The Portuguese were pioneers of long-distance marine travels and as a result, disseminated their native language throughout the globe. By the mid sixteenth century, Portuguese had become the lingua franca of Asia and Africa for trade and administration. Today, it is the official language of ten countries and territories: Brazil, Mozambique, Angola, Portugal, Guinea Bissau, East Timor, Macau, Cape Verde, São Tomé and Príncipe, and Equatorial Guinea. South America, Africa, China, and India are particularly appealing regions for college graduates passionate about healthcare, non-profit work, environmental issues, and business.

First-year student Stephanie Santos may sum it up best: "The Portuguese program at UVM has taught me the language, peoples, and culture of various Portuguese-speaking countries, and it has given me the skills I need to navigate myself through our ever-diversifying world."