Lectures: Late-February to May
Art and Art History Department Lecture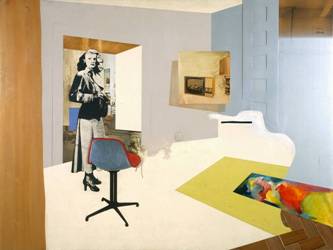 The Department of Art and Art History and The Mollie Ruprecht Visiting Artists and Critics Lecture Series are pleased to present Hal Foster, Professor of Art & Archaeology at Princeton University, who will be speaking on Wednesday, February 27, 2013, 5:30 p.m. in room 301 Williams Hall. The title of his leture is "The Hamilton Test: On the Rapport between Painting and Photography in Pop Art."
It's often thought that, in Pop Art, photography is used to challenge painting, even to attack it. With the art of Richard Hamilton as example, Foster will suggest the near opposite--that, for some Pop artists, photography was a way to recharge painting, even to renew its "ancient purpose." Pictured at left is Richard Hamilton's Interior II, 1964.
Hal Foster is the Townsend Martin Class of 1917 Professor of Art & Archaeology at Princeton University, and the author of many books, including The Return of the Real, Design and Crime, Prosthetic Gods, and The Art-Architecture Complex. A member of the American Academy of Arts and Sciences, he was the 2010 recipient of the Clark Prize for Excellence in Arts Writing and the 2011 Siemens Fellow at the American Academy in Berlin.
Spring 2013 ALANA U. S. Ethnic Studies Lecture Series
Renowned scholars from across the United States will present their research and share their perspectives on the current state of U.S. Ethnic Studies today. These presentations are open to the public. To request a disability-related accommodation, please contact the ALANA U.S. Ethnic Studies Program at 802-656-2263. The lecture series is sponsored by the College of Arts and Sciences, Chief Diversity Office, ALANA U.S. Ethnic Studies Program, Center for Cultural Pluralism, and the Center for Teaching and Learning.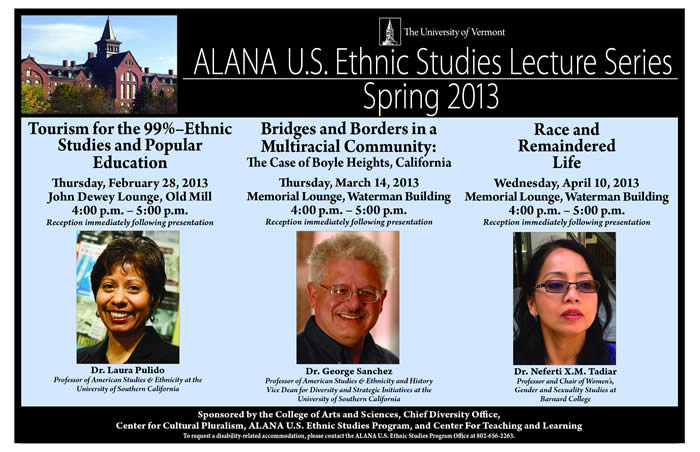 Thursday, February28
Dr. Laura Pulido
Professor of American Studies & Ethnicity at the University of Southern California
Title of talk: "Tourism for the 99%- Ethnic Studies and Popular Education"
John Dewey Lounge, Old Mill, 4:00-5:00 p.m. (reception immediately following)

Thursday, March 14
Dr. George Sanchez
Professor of American Studies & Ethnicity and History, Vice Dean for Diversity and Strategic Initiatives at the University of Southern California
Title of talk: "Bridges and Borders in a Multiracial Community: The Case of Boyle Heights, California"
Memorial Lounge, Waterman Building, 4:00-5:00 p.m. (reception immediately following)

Wednesday, April 10
Dr. Neferti X.M. Tadiar
Professor and Chair of Women's, Gender, and Sexuality Studies at Barnard College
Title of talk: "Race and Remaindered Life"
Memorial Lounge, Waterman Building, 4:00-5:00 p.m. (reception immediately following)
Dean's Lecture Series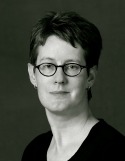 English Professor Val Rohy's Dean's Lecture, "Gay Identity and the Act of Reading in The Well of Loneliness," will take place on Tuesday, March 12 at 5:00 p.m. in Memorial Lounge, Waterman.
This project examines the retroactive formation of gay identity through the act of reading in a famous lesbian novel of the 1920s, Radclyffe Hall's, The Well of Loneliness. Appealing to sexological theory, Hall argues that homosexuals are naturally and immutably different--as we say now, "born this way"--yet the novel's scene of reading opposes that claim, showing something like the queer influence of which the text itself would be accused. In doing so, it leads us to question theories of biological determinism, reframe paranoid notions of queer increase, and consider new forms of gay identity.
Valerie Rohy is the author of Impossible Women: Lesbian Figures and American Literature (Cornell, 2000) and Anachronism and Its Others: Sexuality, Race, Temporality (SUNY, 2009), and the co-editor (with Elizabeth Ammons) of American Local Color Writing, 1880-1920 (Penguin, 1998). She has published essays on sexuality, race, and American literature in such journals as GLQ, Genders, and Modern Fiction Studies. In 2006 she won UVM's Kroepsch-Maurice Excellence in Teaching Award.
The Dean's Lecture Series was established in 1991 as a way to recognize and honor colleagues in the College of Arts and Sciences who have consistently demonstrated the ability to translate their professional knowledge and skill into exciting classroom experiences for their students — faculty who meet the challenge of being both excellent teachers and highly respected professionals in their own discipline.The Dean's Lecture Award is a celebration of the unusually high quality of our faculty and has become an important and treasured event each semester.
Political Science Department, Mark L. Rosen Lecture
On March 12 former Vermont Governor Jim Douglas will deliver the Political Science Department's annual Mark L. Rosen lecture. The title is "GOP RIP? How the Republican Party Can Reconnect with Mainstream America." The lecture will begin at 3:30 PM in the Livak Ballroom of the Davis Center, 4th floor.
Economics Department Lecture
Alice Rivlin, economist at the Brookings Institute, first director of the Congressional Budget Office, and member of the Simpson/Bowles commission, will be giving a public lecture on Monday, March 18, at 4:30 p.m. in Memorial Lounge. She's been invited by Marsh Professor-at-Large Madeleine Kunin and the visit is supported by the departments of Economics, History, and Political Science. The working title of her lecture is "Overcoming Polarized Politics and Economic Challenges."

Full Professor Lecture
Daniel H. Krymkowski, Professor of Sociology and Associate Dean of the College of Arts and Sciences, will present his Full Professor Lecture "Data Analysis without Theory Is Not Science" on Thursday, March 21 at 4:00 p.m. in Memorial Lounge, Waterman.
In his classic book, The Sociological Imagination, C. Wright Mills coined the phrase "abstracted empiricism" to describe research in the social sciences that failed to address important theoretical issues. Although it has been more than half a century since this book was published, far too much current research remains in this category. Professor Krymkowski will critique modern examples of "abstracted empiricism," discuss how social scientific investigations should be conducted, and provide an illustration of such research from his current work on ethnic and racial differences in outdoor recreation.
The lecture will run approximately 40 minutes, leaving 20 minutes for discussion. It will be non-technical and accessible to all colleagues and students.
A mathematical sociologist with a Ph.D. in sociology from the University of Wisconsin-Madison, Professor Krymkowski's current research focuses on class, ethnic, gender, and racial inequality in the contemporary United States. Recently published articles feature collaborative work with Professor Beth Mintz in the Department of Sociology and Professor Robert Manning in the Rubenstein School of Environment and Natural Resources. These papers have appeared in Evaluation Review, The International Journal of Sociology, Leisure Sciences, Race and Social Problems, Research on Social Stratification and Mobility, and The Sociological Quarterly.
German and Russian Department Lecture
Dr. Alla Perminova, a visiting Fulbright scholar at Penn State, will be presenting two lectures while on campus in early April. The first is on Monday, April 1st at 4:30 p.m. in Waterman, Memorial Lounge, and is entitled "Translating American Poetry into Russian and Ukrainian: A Fulbright Year's Experience."
The second is on Tuesday, April 2nd at 4:30 in the John Dewey Lounge in the Old Mill. The lecture's title is "The Law on the Principles of State Language Policy: The Politics of Ethno-Linguistics in Ukraine."
English Department Lecture
The English department, the Diversity and Equity Unit, and the UVM Program Board's committee Comedy, Speakers and Education will be co-sponsoring a reading by author Junot Diaz on April 22, at 5:30 p.m., in the Livak Ballroom, Davis Center, 4th floor.
Full Professor Lecture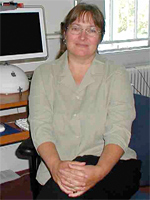 Dona Brown, Professor of History, will present her Full Professor Lecture "Home, Land, Security: The Cultural Politics of American Back-to-the-Land Movements" on Tuesday, April 9 at 5:00 p.m. in Memorial Lounge, Waterman.
For many of us today, the phrase "going back to the land" may bring to mind a vision of the 1960s: yurts and domes, communes and co-ops. But Americans have been dreaming of returning to the land for over a hundred years, and earlier back-to-the-landers were often motivated by beliefs, hopes, and fears dramatically different from those we associate with the 1960s and '70s. What sorts of people dreamed of "returning to the land" in 1900, and why? Who left the city, and who helped other people to leave? Professor Brown will discuss the cultural politics of the first back-to-the-land movement, and consider the legacy it bequeathed to movements in the 1930s, 1970s, and beyond.
Dona Brown has taught history at the University of Vermont since 1994. Her first book, Inventing New England: Regional Tourism in the Nineteenth Century (Smithsonian Press, 1995), explored the significance of the tourist trade in shaping New England's regional identity. She has published widely on both tourism and American regionalism, and was director of the Center for Research on Vermont from 2003 to 2006. Her new book, Back to the Land: The Enduring Dream of Self-Sufficiency in Modern America (University of Wisconsin, 2011), explores the long history of back-to-the-land movements in the United States.
Philosophy Department Spring Colloquia*
March 22, 4:00 p.m.: Andrea Westlund, University of Wisconsin - Milwaukee
April 12, 4:00 p.m.: Tim Maudlin, New York University
*Departmental colloquia are read-ahead events and take place at 70 South Williams Street in Room 109. Individuals attending a Philosophy Department colloquium are expected to have read the paper that will be presented. Requests for an advance copy of a colloquium paper may be sent to: Philosophy.Department@uvm.edu
******
Please note: All lecture speakers, topics, start times, and locations are subject to change.