Honors Ceremony and Commencement 2013
CAS Honors Ceremony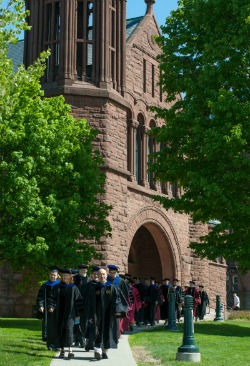 On a beautiful Friday afternoon, Dean Antonio Cepeda-Benito led the chairs and directors from Billings over to Ira Allen Chapel for the CAS Honors Ceremony (picture 1). This year's guest speaker was Tina Escaja, Professor of Spanish (picture 2).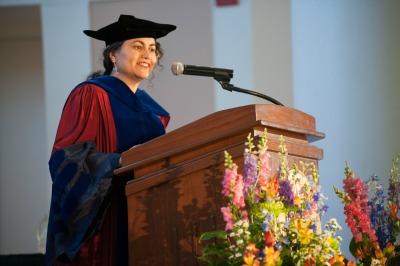 Students who successfully defended their honors thesis were presented with certificates of recognition (picture 3), and awards were handed out to students receiving departmental awards. A reception back in Billings immediately followed the proceedings. Professor Christopher Landry talks to guests at the reception. (picture 4)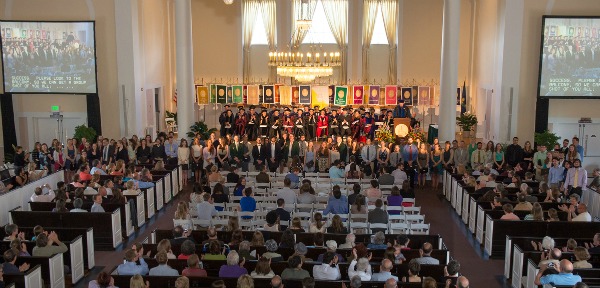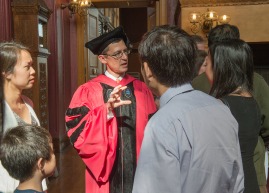 CAS Commencement
On Sunday, May 19th, the CAS Commencement faculty and students processed onto the university green (pictures 5 and 6). Of the 1,182 members of the Class of 2013, close to 900 students crossed the stage to shake hands with Dean Antonio Cepeda-Benito and receive their diploma covers. Frank Byran, Professor Emeritus of Political Science, was the Commencement speaker (picture 7). The Commencement orchestra also had a guest visitor--none other than acclaimed musician Wynton Marsalis, the university's morning Commencement speaker, who played in the orchestra being conducted by Music Professor Tom Toner during the processional and recessional. (picture 8).