College of Arts and Sciences Honors Ceremony and Commencement
Honors Ceremony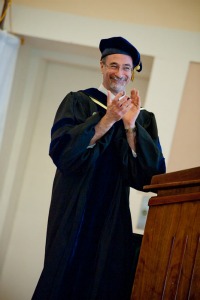 On May 20th, members of the CAS faculty came together with students and families to celebrate the scholastic achievements of seniors prior to a busy Commencement weekend. Students were welcomed to Ira Allen Chapel by Interim Dean Joel Goldberg (pictured left).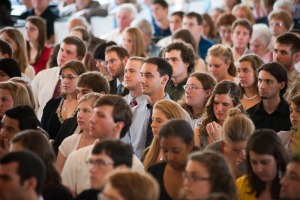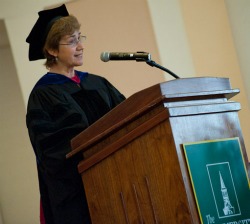 After guest speaker Psychology Professor Susan Crockenberg (pictured right) completed her remarks, students about to be inducted into Phi Beta Kappa, and the 90+ students who successfully completed College Honors, were recognized.
The ceremony continued with recognition of six students in the McNair Postbaccalaureate Achievement Program (pictured with Biology professor and program director, Jim Vigoreaux) and then the departmental awards were handed out to top achieving seniors.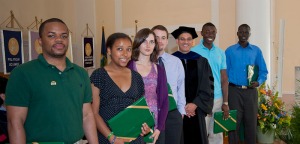 At the completion of the ceremony, department chairs, faculty, students, and their guests had a chance to meet and mingle at the reception held in Billings. A pdf of the 2011 Honors Ceremony can be found here.
Commencement Ceremony
Despite sunny skies, the CAS Commencement Ceremony, along with the morning University Commencement, was held indoors due to excessive amounts of rain during the spring months.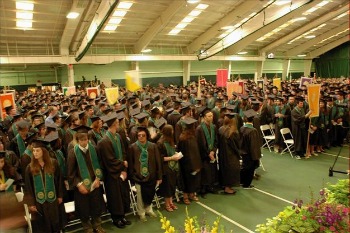 Once the graduating seniors had processed in, the ceremony got underway with the arrival of the platform party, led in by members of the St. Andrew Pipes and Drums (pictured far right).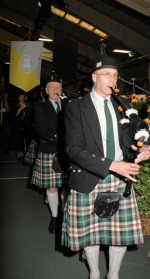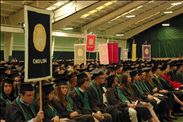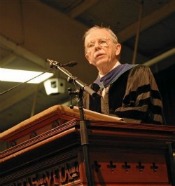 German Professor Wolfgang Mieder (pictured at left) was the Commencement speaker.
The Hannah Howard Prize, awarded to an undergraduate who has achieved the highest grade point average in the College while enrolled on a full-time basis, was shared this year by two students: Biology major Nathan Hicks and Communication Sciences major Kristin Blumen.