Spotlight on Geography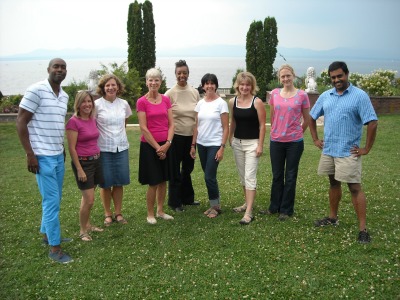 The Geography Department consists of an energetic, research-active, and diverse faculty who have interests spanning from the local to the global, from climate change to the daily mobility of marginalized groups, using methods from ethnography to geographic information systems. What keeps us all together in a collegial, cohesive department is our common interest in a spatial perspective – how natural and social phenomena unfold across space, why geographic differentiation matters for various processes, and how places become unique combinations of the natural, built, and social environments. Pictured from left: Rashad Shabazz, Cheryl Morse, Shelly Rayback, Vibeke Burley, Lesley-Ann Dupigny-Giroux, Beverley Wemple, Meghan Cope, Ingrid Nelson, and Pablo Bose.
New Faces in Geography
In the fall of 2013, Geography welcomed three new people to our department, in various roles.
Ingrid Nelson joined the faculty as an assistant professor. She earned her Ph.D. in geography and a graduate certificate in women's and gender studies in 2012 from the University of Oregon. In 2012-13, she was a postdoctoral fellow at the International Institute of Social Studies (ISS) in The Hague. Ingrid's research focuses on the political ecologies of changing land and other natural resource use and environmental activism in rural areas, specifically in Mozambique and in the northeastern U.S. Her recent work examines masculinities, class, and gender dynamics in forest conservation; afforestation "land grabs"; and illegal timber trade contexts in Mozambique.
Richard Watts joined the department this fall with his appointment as a lecturer teaching Introduction to Vermont and is the new Director of the Center for Research on Vermont. In addition to his position in Geography, Richard is an assistant research professor in Community Development and Applied Economics and a lecturer in the Environmental Program. Richard's research examines the role of strategic communications in the development and implementation of public policy related to energy, transportation, and public health. This research builds on his experience as a policy and communication professional in public policy and political campaigns, and as a journalist and a consultant to government agencies, advocacy organizations, and business groups.
Thanks to some tremendous networking and funding efforts of Assoc. Prof. Lesley-Ann Dupigny-Giroux, the department also welcomed postdoctoral fellow, Evan Oswald. Evan just completed his Ph.D. in Atmospheric and Space Science at the University of Michigan, and will be working as a NOAA PACE Fellow with the VT Department of Health and the VT Agency of Natural Resources on climate change research around human health, air quality, and forest health.
Getting Out in the World Part I: Geography in the Local Community
Asst. Prof. Cheryl Morse reports that the Vermont Farmlands Project continues to progress through a series of collaborations. She was invited to work with researchers in the Rubenstein School and CALS on a USDA-funded project on the multifunctionality of agroecological environments in the Lake Champlain watershed. As part of this project, she has examined private landowners' role in the production of iconic New England landscapes and is assessing farmland and rural community changes over a 25-year period in two very different agricultural regions of Vermont. Morse is looking forward to the spring when she will teach UVM's first Food Systems Immersion Seminar, a service-learning course for graduate students in the Food Systems Master's Program. This comes on the heels of teaching VT Field Studies: Working Landscapes, a service-learning course that she offers to undergraduates. In this class students have researched and will write a Landscape Use and Perception Study for UVM's Jericho Research Forest (JRF), a document that will provide background information and suggestions for the leaders at the Rubenstein School who manage the JRF.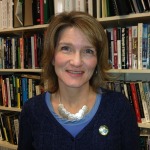 Prof. Meghan Cope has been partnering with Brian Lee (Transportation Research Center and Dept. of Civil Engineering) on a study of teen mobility in Chittenden County. Comparing two high school districts (South Burlington - SBHS, and Champlain Valley Union - CVU), they identified the areas' different land-use patterns and public transportation networks. On one level they found that, indeed, the denser residential patterns, mixed-use development, and abundant public transportation of South Burlington meant that SBHS students have good mobility: teens are mostly able to get to places they want/need to go independently and without a car. Alternatively, the low-density residential patterns, multi-town district, and minimal public transportation in Chittenden South mean that CVU students are far more dependent on cars, either being driven by parents or driving themselves. On another level, Cope and Lee affirmed that technology is a key part in the time/space management of teens. Teens use their phones to arrange rides, coordinate events, keep in touch with parents and teachers, and manage their busy daily geographies in ways that have barely been explored yet by researchers.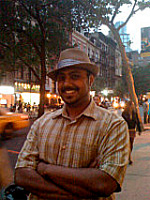 Asst. Prof. Pablo Bose is currently working on a series of projects with the local refugee communities and service providers in Chittenden County. These include a study of food security and community-supported agriculture with the New Farms for New Americans program of the Association of Africans Living in Vermont, a survey of both educational and health outcomes with local schools and health providers respectively, and helping to facilitate consultations on refugee placements with the Vermont State Refugee Coordinator's Office and the Vermont Refugee Resettlement Program. During 2013-2014 he is also working with sophomore Sameera Ibrahim to develop a research portal for disseminating the results of two studies on refugee mobility sponsored by the Transportation Research Center. Finally, throughout 2013 Bose has been a member of the Mayor of Burlington's Public Investment Team, helping to evaluate and adjudicate plans to redevelop the waterfront through the investment of over $7 million in tax increment financing in public and private infrastructure.
Assoc. Prof. Lesley-Ann Dupigny-Giroux not only serves as the State Climatologist for Vermont, she also engages directly with community groups, K-12 schools, state legislators and agencies, and national climate organizations. She and Assoc. Prof. Shelly Rayback are serving as the primary mentors for Dr. Evan Oswald, through the NOAA PACE Postdoctoral Fellowships Program, whose task is to quantify future interactions among a changing climate, human health, and the health and management of Vermont's forests and air quality. Dupigny-Giroux also recently secured funding from the National Science Foundation to create a documentary video about Tropical Storm Irene in Vermont, its climatological perspective, and the ways in which global processes can affect local impacts. The documentary will accompany K-12 curricula being developed by the Vermont Institute of Natural Sciences (VINS). Additionally, her Climatology & Natural Hazards class recently worked with the Vermont Department of Emergency Management and Homeland Security to rewrite the climatology content sections of the FEMA-mandated Vermont State Hazard Mitigation Plan.
Getting Out in the World Part II: Geography in the Global Community
Asst. Prof. Cheryl Morse presented a paper titled "Performing the New England Landscape" at the Royal Geographical Society-Institute of British Geographers annual meeting in London in August 2013. Her paper was the result of collaboration among a group of UVM researchers who conducted USDA-funded research on the multifunctionality of agroecological environments in the Lake Champlain watershed. As rural geography is a robust area of research in the UK, Morse had the opportunity to discuss the work with a number of experts on social identity and rural representation. As a side project, Morse visited the Soho District of London, made famous by the nineteenth-century scientist John Snow, whose research on a neighborhood cholera outbreak helped convince government leaders that cholera is a water-borne disease. She took photos of the neighborhood, which her first-year Integrated Study of Earth and Environment students are now incorporating into their "Mapping the Ghost Map" project.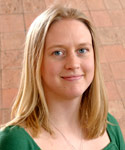 Asst. Prof. Ingrid Nelson spent the 2012-13 academic year as a post-doctoral scholar at the International Institute of Social Studies in The Hague, Netherlands, where she worked on a research project with Bram Büscher about the links between conservation and new online funding and social media platforms. She also launched a book project (Zed Books) with gender and development scholar Wendy Harcourt. In May, Nelson presented her research findings in a public forum in Maputo, Mozambique, which government and civil society representatives attended. Nelson also wrote three essays in Portuguese and published and printed them locally with the organization Justiça Ambiental in Mozambique for distribution to activists, government, and the NGO sector (see www.ingridlnelson.com).
Asst. Prof. Rashad Shabazz recently received a CAS Faculty Research Support Award to fund the first part of a project that examines Black people's use, engagement with, and expression of culture, politics, and identity through public space. The broader project will consist of case studies that examine three geographically distinct Black cultural performances: Mardi Gras Indians in New Orleans, Black Gay Pride in London, and Carnival in Trinidad and Tobago. Shabazz will study these festivals to explore how Black people utilize public space to articulate a Black spatial politics; that is, the ways in which Black people utilize space to give voice to Black political, cultural, gender, and sexual life in the face of exclusion.
In March 2013, Assoc. Prof. Shelly Rayback traveled to the Department of Geography at the University of Swansea (Wales, UK) supported by funding from the CAS RANSS grant. She was hosted by colleagues and fellow dendroclimatologists, Drs. Mary Gagen, Neil Loader, and Giles Young. While there, Rayback learned a novel laboratory technique, Blue Intensity Analysis, which provides a proxy of past climate conditions from tree rings. This new proxy information for eastern hemlock and red spruce trees is being used, in addition to tree ring width measurements and stable carbon isotope ratios, to create a multiproxy reconstruction of past climate for Vermont.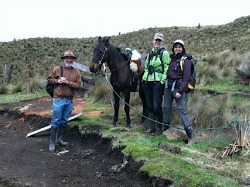 Assoc. Prof. Beverley Wemple traveled to Cuenca, Ecuador in May 2013 as part of her sabbatical to launch a river monitoring project with the Fundación Cordillera Tropical. The project aims to use high-frequency sensors to characterize the natural flow regime and sediment transport dynamics of an Andean river undergoing rapid landuse change and hydropower development. In early November 2013, Wemple traveled to Bahía Blanca, Argentina to attend the annual All-Hands Meeting of the Global Lakes Ecological Observatory Network (GLEON). During the meeting, Wemple presented her research on erosion dynamics and sediment transport in the Lake Champlain basin and launched a collaborative project with GLEON participants from Canada, the US, and Latin America on the impacts of watershed processes on lake water quality.
Thanks to the generous support of the Oaklawn Foundation and Geography Alumnus Will Kies (MA 2004), four Geography majors have received funding to support their study abroad/travel course work this academic year. Marshall Distel will conduct field work on cities in Spain while studying abroad there this fall; Sammie Ibrahim plans to study abroad next year in Kyrgyzstan; Shad Payne-Meyer will participate in the Politics of Land Use course in Ecuador in January 2014; and Jack Kilbride will participate in the Nepal travel course in summer 2014. Speaking of study abroad, senior Erin Kerr spent one semester in Canada on a NAFTA Mobilities scholarship studying globalization in the Toronto area and one semester in the Balkans on a Boren Scholarship exploring post nationalism and refugees in Serbia.
Bringing the World In: Recent Visitors to Geography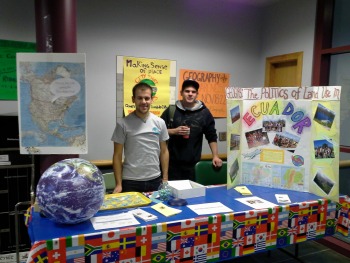 The Geography Department has welcomed five terrific speakers already this fall. Dr. Diana Sinton is the Executive Director of the University Consortium for Geographic Information Science and a national leader on interdisciplinary spatial thinking. She brought her expertise to UVM in August when she served as a keynote speaker for the Mapping Worlds interdisciplinary workshop funded by the Dean's EEIEE program. Prof. Amy Hillier (City and Regional Planning, UPenn) also visited as part of the Mapping Worlds workshop, sharing her own interdisciplinary work, which applies geographic information systems (GIS) and spatial analysis methods to housing and health topics. In October, we were honored to have Ms. Latoya Evans (Ph.D. candidate at Florida International University) visit in a jointly-sponsored event with ALANA and Gender, Sexuality, and Women's Studies to present her work titled "Fertile Ground: Landscapes of Race and Desire." Also in October, Geography hosted Prof. Elisabeth Dowling Root (Geography, Univ. of Colorado Boulder and School of Public Health, University of Colorado Denver) as part of the CAS-funded events surrounding the First-Year Read book, The Ghost Map. Prof. Root is a spatial epidemiologist and medical geographer, and she shared her work with presentations at the Vermont Department of Health, at a public lecture with over 300 attendants in Billings Lecture Hall, and in several 0-level class meetings. Additionally in November, Geography welcomed Burack lecturer Prof. Connie Woodhouse (School of Geography and Development, University of Arizona), an expert in paleoclimatology and climatology with reference to water resource management in the western US. Recently, the department hosted the annual Geography Awareness Week (November 18-22) where geography majors presented papers and research projects. Pictured above are UVM students Gavin Santacross on the left and, on the right, Seaver Anderson, who worked one of the tables. These speakers and other events planned for the spring help to bring the larger world of geographical research to our students, faculty, and the UVM community, as well as reinforcing the excellent national reputation of UVM's Geography Department to our guests.
Sending Our Students Out to the World: A Sample of Recent Geography Alums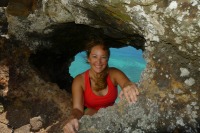 Geography Alumna Abby Frazier (2008; pictured at right), who is currently pursuing her Ph.D. at the University of Hawaii, was recently the second author on a paper that appeared in the extremely prestigious journal Nature. Abby was excited to have been interviewed by the global news media, including the New York Times, LA Times, National Geographic, Washington Post, CNN (in the US), and Sydney Morning Herald in Australia, to name a few!!
Katherine Jones (2010) is currently working for the US Committee on Refugees and Immigrants in Washington, DC. Her work is with recently resettled refugees in the US, focusing on successes and challenges of integration into new communities all across the country. She coordinates an economic self-sufficiency initiative in 30 sites across the US that prepares newcomers to the United States to seek and secure employment, connects clients with employers seeking a committed workforce, and offers ongoing job counseling to help clients improve their skills and increase earning power. Mia Payraudeau (2013) has followed her recent graduation with a new venture, starting classes this fall at the International Culinary Institute in New York City. Future possibilities include continuing on with the culinary arts or possibly combining her passions in geography, popular culture, and food with graduate studies in media geographies of food. Hannah Fjeld (2009) is working at the Greenfield, Mass. Public Library as a reference librarian and simultaneously working on her MLS degree from Simmons College. She reports that her geography training has been extremely helpful in this field, and she is hoping to gain the qualifications someday to serve as a map/spatial-reference librarian at a college or university. Elizabeth Wolfe (2011) returned to Burlington after "wwoof-ing" around Europe (see http://wwoof.net/) and is now employed by Vermont Bicycle Tours helping on the planning and logistical side of the operation.