Landry Receives Fulbright Research Award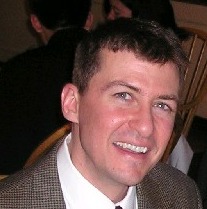 Professor Christopher Landry of the Department of Chemistry and the Cell and Molecular Biology Program at UVM, is the recipient of a Fulbright Senior Research Award for 2011-2012. He will be conducting research in Spain from February through June 2012. Landry's research at UVM is concerned with the synthesis and applications of porous inorganic solids, with a focus on the interactions of nano- and microparticles with biological systems.
Working with Professor Brooke Mossman of the Department of Pathology in the College of Medicine, Landry is developing silica (glass) nanoparticles that can be used in chemotherapy. For example, the particles can be loaded with chemotherapeutic drugs and then modified with polymers and antibodies, allowing them to target and deliver their molecular cargo specifically to tumors when injected in vivo. While in Spain, Landry plans to work with Dr. Pablo Botella at the Instituto de Tecnología Química in Valencia on experiments using particles of various sizes, to study whether cancer cells take up nanoparticles differently than normal cells. The work could lead to inhalable particle-based drug therapies and will have an impact on the development of improved drug delivery devices.