Welcome from Antonio Cepeda-Benito, Dean of UVM's College of Arts and Sciences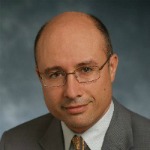 I'm happy to report the obvious—another year flew by! Academic Year 2012-2013 brought us a myriad of accomplishments and proud memories. Of the 2,547 UVM bachelor level graduates, 1,184 (or 47% of the total) were CAS students. The most subscribed majors were English (170), Psychology (159), and Political Science (145), with History (95), Biology and Environmental Studies tied (81), and Art and Art History (68) next behind. Our College was vastly represented among those who graduated from the Honors College, making 66%, or 74 of the total 112. We also had a substantial number of students receiving master (31 of 439) and doctoral (8 of 122) degrees.
Commencement was fantastic—a gorgeous day with bright blue skies sprinkled with soft, velvety clouds, immaculate greens adorned with the spring fragrances and colors of Vermont's flowers, and, of course, happy festive crowds. We were moved and delighted by our commencement speaker, world-renowned musician, and UVM parent, Wynton Marsalis. (Follow the links to either watch Marsalis's full speech on YouTube or read a PDF of the transcript.)
Commencement was preceded by a warmhearted, modest dedication to name our administrative home at 438 College Street in honor of one of UVM's longest serving and most successful presidents, Lattie F. Coor. Long-serving faculty and staff joined Robert F. Cioffi, Chair of the UVM Board of Trustees, UVM President Tom Sullivan, and myself to welcome and show our appreciation to Coor and his family. Coor was visibly moved and reminisced about his thirteen years at UVM from 1976 to 1989.
The year left us with a number of noteworthy accomplishments by our faculty. I will just highlight a couple: Associate Professor Bryan Ballif, Department of Biology, teamed up with French scientist Lionel Arnaud to discover the underlying cause of the very rare "Vel-negative" blood type (about 1 in 2,500 individuals are Vel-negative). Ballif and colleagues not only unveiled a 60-year-old mystery, but also developed two fast DNA-based tests for identifying the Vel-negative blood type. The new tests can be easily integrated into existing blood testing procedures and will prevent life-threatening crises caused by up-to-now difficult to foresee incompatible blood transfusions.
Early in May I was thrilled to announce that Wolfgang Mieder, Professor of German and Folklore, was awarded the rank of University Distinguished Professor. Wolfgang became the eighth UVM faculty member to hold the title. Wolfgang joins Judith Van Houten (Biology) and Rex Forehand (Psychology) as the third University Distinguished Professor from CAS, and the first one representing the Humanities.
Wolfgang is very deserving of this honor. Scholars attribute to him several seminal theoretical and applied contributions to his work on folklore and proverbs, and his pre-eminence is without second. Wolfgang is the first scholar to receive the three highest, most prestigious world-wide awards for folklore studies: the Pitrè International Folklore Prize, the Europäischer Märchenpreis, and the Lifetime Achievement Award from the American Folklore Society.
Finally, this past April we received news that Professor Major Jackson, English, was awarded a Guggenheim Fellowship <http://www.gf.org/> which is one of the top honors granted to scholars and artists in academia; only 175 scholars out of 3000 applicants were awarded a fellowship. Jackson is the author of three collections of poetry: Holding Company, Hoops, and Leaving Saturn, which was awarded the Cave Canem Poetry Prize and was a finalist for the National Book Critics Circle Award in Poetry. He has published poems and essays in periodicals including AGNI, American Poetry Review, Callaloo, The New Yorker and Tin House. His work has been included in Best American Poetry (2004, 2011) and Best of the Best American Poetry. Poetry editor of the Harvard Review, Jackson, among other honors, has been a recipient of a Pushcart Prize and a Whiting Writers' Award. To our knowledge, although we have other faculty who have received a Guggenheim Fellowship at some point throughout their career, Major Jackson is the first person to receive the award while being a UVM faculty member.
The new academic year is around the corner and we are already preparing for it with great hope and anticipation. We will have a new Provost starting August 1st. Dr. David V. Rosowsky is currently Dean of the School of Engineering and Professor of Civil Engineering at Rensselaer Polytechnic Institute, a position he has held since 2009. Prior to that he spent five years at Texas A&M University, where he served as Head of the Zachry Department of Civil Engineering. I am very much looking forward to working with him to meet the challenges we undoubtedly face and continue to build on the legacy of excellence that UVM embodies.
Enjoy your summer . . .