Welcome from Joel Goldberg, Interim Dean of UVM's College of Arts and Sciences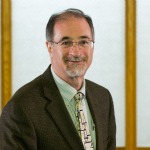 It has been a wonderful, busy, productive year for the College but I have to say that the highlight is always seeing our students graduate and getting to meet their families. We had a gorgeous, sunny (and hot!) day for Commencement on May 20th and it was nice to have the University and College ceremonies outside and on the UVM Green again. Arts and Sciences had more than 1,200 undergraduate degree recipients and the UVM Green was packed with students and their families and friends (and the ceremony was also streamed live, for the first time, on the web!).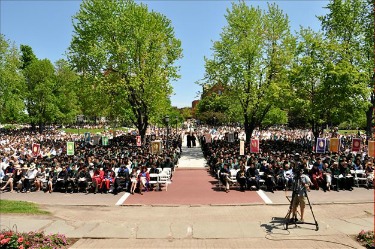 It is a special treat for me to be able to congratulate each student personally, and particularly pleasing to be able to do so for students I have advised, taught, or interacted with over the years. That this is a particularly accomplished group of graduates was brought home at the Arts and Sciences Honors Ceremony held in Ira Allen Chapel on Friday afternoon to kick off the Commencement weekend's events. At that event, we recognized graduating seniors receiving departmental and program awards, those seniors selected to be inducted into Phi Beta Kappa, students completing College Honors theses, and McNair Scholars. The hard work of these students as well as the mentoring done by their faculty advisors was a joy to celebrate, and the invited comments delivered by Jim Vigoreaux (Professor and Chair of Biology) on the meaning of a liberal arts education provided fuel for discussion at the reception in the Billings Library building afterwards. By contrast, the campus now seems deserted, but it will not be long before the next group of students (the Class of 2016) arrives on campus to start their college careers!
There's no getting around it, the biggest news for the College is the eagerly anticipated arrival of our new Dean, Dr. Antonio Cepeda-Benito! Dr. Cepeda-Benito will begin his appointment as Dean in mid-July, and we are working to ensure that his transition to UVM is as smooth and seamless as can be. I will not reiterate here his biographical information (please see the separate appointment announcement article in this newsletter), but I am sure you will agree that he brings a wealth of experience and accomplishments as a scholar, teacher, and administrator to the College.
This, then, will be my last contribution to the CAS eNews as Interim Dean. If I have been successful in this role, please know it is because of the amazing people (faculty, staff, and students) that I have been privileged to work with over the past year and a half. I have been fortunate, in this role, to get to know the more than 300 scholar-teachers in our College, if not by sight, then by name and accomplishments. The creative/scholarly activity of our faculty is nothing short of breathtaking and their dedication to conveying that expertise and passion to our students (both undergraduate and graduate) is inspirational. They are the lifeblood of the College and it has been a joy getting to know all of them better. We are also fortunate to have a remarkable group of staff who seamlessly ensure that the educational and research missions of the College are attainable, and it has been my pleasure to work with this talented and dedicated group of professionals.
Finally, let me thank my two Interim Associate Deans: Professors John Burke and David Massell (on loan this year from the Political Science and History departments, respectively). They have continued doing the real nuts and bolts academic administrative work this year while Associate Dean Dan Krymkowski was on sabbatical and I filled in as Interim Dean. Both go back to their home departments as of July 1st and both have (previously planned) semester-long sabbatical leaves next year. Both also leave a long list of accomplishments as well as colleagues in the Dean's Office who will miss their wise counsel and wry humor. Both Dan and I will be back as Associate Deans and look forward to working with Dean Cepeda-Benito in the coming year.
Thank you all for your support of UVM and the College of Arts and Sciences; I wish you a restful and productive summer and hope you will stop by 438 College Street to say hello when you are on campus!