CAS Department Updates September 2013
Anthropology
Assistant Professor Jonah Steinberg, author of "Isam'ili Modern: Globalization and Identity in a Muslim Community," 2011 (UNC Press), received the 2013 Book Award in Citizenship Studies from Wayne State University. Jonah's acceptance speech can be viewed here: http://www.youtube.com/watch?v=feavv4qO-H8. Please note that Jonah begins speaking around the :09 minute mark.
English
English Professor Major Jackson recently had one of his poems published in the highly glossy New York Times Style Magazine with an ink drawing by the noted Pop artist Alex Katz. Jackson will be giving readings and lectures at the following locations this fall: the University of Montana (Missoula, MT); Bard College at Simon's Rock (Great Barrington, MA); New York University (New York, NY); The New School (New York, NY); the Walt Whitman Birthplace State Historic Site and Interpretive Center (Huntington Station, NY); and The Great Hall at The Cooper Union (New York, NY).
Also, the Academy of American Poets tweeted a link to their poem of the day for Sept. 11, UVM English Professor Major Jackson's "On Disappearing." See the tweet, and read the poem...
Members of the English department faculty have recently had books published (including monographs, poetry, and edited collections):
Major Jackson, Countee Cullen: Collected Poems (Library of America, 2013)
Tony Magistrale, Entanglements (Fomite, 2013)
Greg Bottoms, Spiritual American Trash: Portraits from the Margins of Art & Faith (Counterpoint, 2013)
Todd McGowan, Enjoying What We Don't Have: The Political Project of Psychoanalysis (University of Nebraska Press, 2013)
Other new essays, memoirs, poetry, and books being published include:
Senior Lecturer Angela Patten has a new memoir, High Tea at a Low Table: Stories from an Irish Childhood, forthcoming from Wind Ridge Books of Vermont. Here is a description of the memoir: "High Tea at a Low Table is the story of a working-class girl, growing up in horse-and-cart Dublin of the 1950s and 60s. She strives to find her own voice amid the insistent clamor of family and clergy and the lure of an unruly and American future." The scheduled release date is September 15th.
At the same time, a new collection of poetry by Daniel Lusk entitled Kin will be published by the same press.
Senior Lecturer Chris Vaccaro has edited and contributed to The Body in Tolkien's Legendarium: Essays on Middle-earth Corporeality (McFarland, August 2013), which also includes an essay by Senior Lecturer Jamie Williamson.
Lecturer Stephen Cramer has a poem forthcoming in Yale Review.
Associate Professor Eric Lindstrom has edited an essay collection, Stanley Cavell and the Event of Romanticism, appearing this year in the online journal "Romantic Circles: Praxis Series." His other essays will appear this year in the journals Criticism, English Literary History (ELH), Essays in Romanticism, and Romanticism.
The English department; Gender, Sexuality and Women's Studies; and many other colleges, departments, and programs are delighted to announce that Vermont cartoonist and memoirist Alison Bechdel has been named a UVM Marsh Professor-at-Large.
Through the leadership of Professor Major Jackson, the English department is co-sponsoring the visit of former Poet Laureate Billy Collins on October 2 at 7:00 PM in Ira Allen Chapel. Billy Collins was born in New York City in 1941 and is the author of several books of poetry, including Nine Horses (Random House, 2002); Sailing Alone Around the Room: New and Selected Poems (2001); Picnic, Lightning (1998); The Art of Drowning (1995), which was a finalist for the Lenore Marshall Poetry Prize; Questions About Angels (1991), which was selected by Edward Hirsch for the National Poetry Series; The Apple That Astonished Paris (1988); Video Poems (1980); and Pokerface (1977).
Geology
NBC News's science section features recently published research led by Geology Professor Paul Bierman and his graduate student showing that, in central northwestern Greenland, near Baffin Bay, despite the island's ice sheet advancing and retreating many times over the past 800,000 years, the local highlands, protected by "ghost glaciers," were never eroded by ice as other areas were. "There are indications that these rocks have been exposed and buried for many Ice Age cycles," says graduate student and lead author Lee Corbett, "(but) when the ice advanced over this area, it was essentially frozen to the bedrock below. It's not eroding or shaping the landscape." Read the story...
German and Russian
Professor Helga Schreckenberger is hosting a conference here at UVM at the end of the month. The International Conference on Exile Studies, "Networks of Exile," will take place September 26th through 29th.
Professor Wolfgang Mieder learned that the University of Athens (Greece) is awarding him an honorary degree. Mieder will head there later this year to give a talk and participate in the ceremony. Mieder has also been featured in several international interviews recently: one in English in the London newspaper Metro about proverbs in pop culture (the interview appeared in the 08/12/2013 edition) and one in German in the Süddeutsche Zeitung Magazin Stil Leben.
History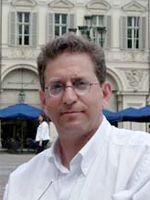 Alan E. Steinweis, Professor of History and Miller Distinguished Professor of Holocaust Studies, will hold the Chair (Lehrstuhl) for Jewish History and Culture at the University of Munich, Germany for three semesters starting in the fall 2013. One of Europe's foremost academic centers in the field of Jewish Studies, the Chair employs about a dozen scholars, at various levels of seniority, who teach and conduct research. Twelve doctoral students are currently working on their degrees under the auspices of the Chair, which is also the site for four major externally-funded group research projects. The Chair presides over a significant program of guest lectures in Munich, publishes a scholarly journal twice per year, and plays host to a distinguished guest professorship funded by the Allianz insurance company. Currently, the University of Munich is working closely with the Munich-based Institute for Contemporary History to develop an ambitious Holocaust institute, with a view to elevating Munich to a major center for research and teaching in a subject of great political and cultural importance to Germany.

During her 2013-2014 sabbatical, Associate Professor of History and Director of Gender, Sexuality, and Women's Studies Felicia Kornbluh will hold two visiting positions. In the fall, she will be a visiting scholar at the Center for the Study of Law and Society at the Boalt Hall School of Law at the University of California, Berkeley. In the spring, she will be the Muriel Gold Senior Visiting Scholar at the Institute for Gender, Sexuality, and Feminist Studies at McGill University.

Associate Professor Bogac Ergene was recently named the Aga Khan Distinguished Visiting Professor of Islamic Humanities at Brown University, a position he will hold during the spring 2014 semester.

Associate Professor and Chair Paul Deslandes has been appointed by the College Board as Chief Reader for AP European History. In this capacity over the next four years, he will oversee the annual scoring of more than 120,000 AP European history exams taken by students across North America and around the globe.

Professor Steve Zdatny is the new Director of European Studies at the University of Vermont.

Associate Professor Melanie Gustafson has been appointed to the Editorial Board of the Journal of the Gilded Age and the Progressive Era.

History professors Dona Brown and Felicia Kornbluh presented papers at a transdisciplinary Summer Research Workshop exploring "New Directions in Gender, Class, and Food Work." The workshop was sponsored by the UVM Food Systems Initiative and the UVM Gender, Sexuality, and Women's Studies Program, and brought together UVM academics from all parts of the campus with professionals working on food security, nutrition, and the future of agriculture.
The history department continues its excellent record of publishing books. During the summer, Associate Professor Nicole Phelps published U.S.-Habsburg Relations from 1815 to the Paris Peace Conference: Sovereignty Transformed with Cambridge University Press, and Associate Professor Frank Zelko published Make It a Green Peace: The Rise of Countercultural Environmentalism with Oxford University Press.
In student news, the department has awarded the Paul Evans Scholarship, for the 2013-2014 academic year, to Patrick Maguire and Seth Colburn. It also awarded the Ruth Baird Scholarship, for 2013-2014, to Timothy Robustelli and Jessica Fuller.
Philosophy
Associate Professor Louis deRosset presented "Better Semantics for the Pure Logic of Ground" at a conference near Milan, Italy sponsored by the Eidos Centre for Metaphysics at the University of Geneva. He will present a related paper entitled "Grounding the Unreal" at a Workshop on Fundamentality, sponsored by the University of Birmingham in the UK in October.
Associate Professor Tyler Doggett presented his work on food ethics at Princeton University in the spring and will be presenting it at Dartmouth College, Mount Holyoke College, and Rutgers University in the fall.
Associate Professor Sin yee Chan presented a paper "Confucian Motherhood and Filial Piety" at the conference on filial piety, Center for Ethical Studies of Renmin University of China in Beijing, China, this past July.
Physics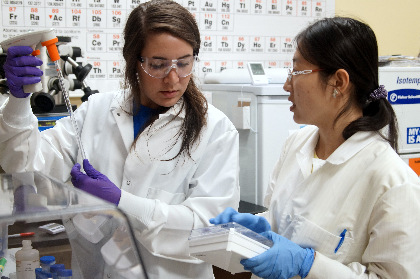 Funded by a grant from the National Science Foundation, the UVM summer program on complex materials brings talented undergraduates from universities across the country to Burlington to work on research projects with the UVM faculty in the materials science program. UVM has the only NSF Research Experience for Undergraduates (REU) site in Vermont. Admission to the program is highly competitive, as only ten students are selected from over a hundred applications. Research awards include a $5,000 student summer stipend, free housing, and some funding for travel to UVM. Pictured are Ashleigh Bristol (left), an undergraduate from University of Mississippi, working with UVM graduate student Tianxin Miao in the laboratory of Professor Rachael Oldinski, a faculty member of the complex materials REU. Photo: courtesy of Professor Furis. Read more.
Political Science
In July 2013 the department received a $30,000 grant from the Louis Rakin Foundation to study "The Arab Spring and Global Political Transitions." The purpose of the project, to be realized through teaching and research by UVM faculty and through presentations at UVM by other scholars, is three-fold: (1) to examine the course of the Arab Spring in light of past transitions to more democratic governments in other parts of the world, (2) to assess the impact of these Arab events on other world areas now and in the future, and (3) to develop recommendations based on this comparative scholarship for how Arab states and other states in periods of political transition can successfully develop stable and democratic political institutions. The project has three components: (1) support for four undergraduate Rakin Seminar courses in the UVM political science department on these topics, (2) support for a Rakin Symposium lecture series that would bring scholars of these topics to the UVM campus for public lectures and participation in the Rakin Seminars, and (3) support for faculty research on topics related to the subject matter of the grant. The department proposed to share the findings of its faculty's research and the visitors' presentations through a dedicated Rakin Symposium section on the department's website. The Rakin Symposium will be held on April 3, 2014.

In a previous grant in 2010-12, Rakin Foundation funding provided critical support for bringing speakers to campus to participate in two seminars that had been designated the Rakin Seminar: one on "Oil and Politics" and another on "Accountability Mechanisms in Transitional Politics." These speakers made the courses a special experience for the students. The Rakin Foundation grant also supported important research by several political science faculty on such topics as understanding state-media relations in new African democracies and the impact of benefits from EU accession on internal migration within Poland.
The Christian Science Monitor, among many national publications, features a study that was the subject of a new book by Associate Professor Anthony Gierzynski. In Harry Potter and the Millennials: Research Methods and the Politics of the Muggle Generation, Gierzynski finds that fans of the book and movies "tend be more open to diversity; politically tolerant; less authoritarian; less likely to support the use of deadly force or torture; and more politically active." Read the story…
Political science professor and Middle East expert Gregory Gause offers his analysis on the situation in Egypt following the ouster of President Mohamed Morsi and a deadly crackdown on protests. Speaking to PRI's "The World" and others, Gause provides his perspective on where things stand for the U.S. Government, the Saudi Arabian military, and Egypt's political and social landscape. Read an interview in the Global Post…
Romance Languages and Linguistics
Joseph Acquisto gave an invited lecture at the University of Waterloo (Ontario) in September on the subject of his new book project, the esthetic and philosophical effects of negating salvation in poet Charles Baudelaire and poet/critic Benjamin Fondane.
Antonello Borra's book of poetry, Alfabestiario, was featured and praised in a review article in the cultural supplement of the Italian daily, Il Sole 24 Ore (August 2013); Antonello also published the Italian translation of a poem by John Berryman in the daily newspaper, La Repubblica (May 2013).
Tina Escaja published a book chapter on the Spanish poet Ana Rossetti ("Ludismo y culto al miedo en el Devocionario de Ana Rossetti," Madrid, 2013) and an article for the monograph "Propuestas radicales para los estudios vascos" (Radical approaches to Basque studies) on the works of Basque poet Ixaro Borda (452ºF. Revista de Teoría de la Literatura y Literatura Comparada / Journal of Literary Theory and Comparative Literature, July 2013). Her research on Borda is related to her new investigations on language, gender, and pan-Hispanic authors that she presented last month in Accra, Ghana, at the IV International Conference on Afro-Hispanic, Luso-Brazilian and Latin American Studies. Her creative work this year includes an installation at the upcoming Art Hop. She is currently organizing the 20th Annual Hispanic Forum entitled "Maricoñerías: Queer Spain/Queer Vermont (and Beyond)" (October 2013).
Sociology

HBO's series The Wire has been regularly described as "the best TV show ever broadcast in America" (and more) by numerous critics, and some claim it deserves to be considered a great work of literature. Professor Ellie Miller has another take. She has long been a researcher of urban issues; her study of urban female street hustlers, Street Woman, remains a classic. So when designing a new course on urban poverty, she decided to use The Wire as a lens through which undergraduates can study problems of urban poverty, and the tangled issues of race, drugs, violence, and corruption with which it is associated. Her new course, "Urban Inequality and Crime: The Wire" (Soc. 96A), will be offered next semester. And there's reason to believe the show's creator, David Simon, might approve. He wrote about the program, "We thought some prolonged arguments about what kind of country we've built might be a good thing, and if such arguments and discussions ever happen, we will feel more vindicated in purpose than if someone makes an argument for why The Wire is the best show in years."
Two-year sociology department project teaches research skills and provides students with real-world experience while producing a report for the VT Dept. of Corrections:
In a unique ongoing collaboration with the Department of Corrections, four sociology faculty and roughly two dozen sociology students are in the middle of a two-year project studying the impact of incarceration on families. Beginning last year under Associate Professor Alice Fothergill, students in sociology's Service Learning Internship seminar visited and worked in prisons throughout Vermont and, with the help of Professor Nicholas Danigelis, designed surveys and interviewed prisoners. This fall, another group of students is continuing the project under the tutelage of Associate Professor Kathy Fox, where they continue to work in the prisons and conduct the survey. In addition, students in Jenn Strickler's methods course are helping to code and analyze the data. Across three courses, students are gaining direct experience with prisoners and their families, experience in developing and administering surveys, and experience with managing and analyzing data – all of which are skills increasingly required by employers. The work will culminate in a student-written report to the Women and Family Services Coordinator at Vermont's Department of Corrections. The project takes students far out of the classroom and outside of class routines. For example, many worked through the summer, and several spent this past Labor Day with Fox and Fothergill on a visit to a prison. And the project directly serves the State of Vermont: the DOC expects to use the report to help improve DOC policies. http://www.uvm.edu/~cas/?Page=news&storyID=16241&category=cas
Associate Professor Thomas Macias: "Know your Neighbors, Save the Planet?"
The old adage "it's not what you know, but who you know" nicely describes the power of what sociologists call "social capital," i.e., the network of connections that shape a person's life. Professor Macias, working with graduate student Kristin Williams, has been pioneering research into whether "who you know" can shape attitudes and behaviors towards the environment. Using 2010 General Social Science data, they have produced a series of papers that have been presented at conferences and submitted to journals:
WORK IN PROGRESS
Macias, T. and Williams, K. "Know Your Neighbors, Save the Planet: Social Capital and the Widening Wedge of Pro-environmental Outcomes." Currently under peer review at the American Sociological Review.
Macias, T. and Williams, K. "Mediating Environmental Concern: Direct and Indirect Effects of Social Capital on Energy Conservation."
PROFESSIONAL CONFERENCE PAPERS
Macias, T. "A Social Capital Basis for Sustainable Living." June 2013. Presented at the 50th International Making Cities Livable Conference in Portland, Oregon.
Macias, T. and Williams, K. "Notable Social Capital Correlates with Pro-environmental Outcomes." August 2013. Table session at the Meeting of the American Sociological Association, New York City.
Associate Professor Kathy Fox has recently returned from a Fulbright Senior Scholar semester in New Zealand, where she studied offender reintegration and the use of restorative justice process in the criminal justice systems of Vermont and NZ. She gave talks at Victoria University in Wellington, at the New Zealand Dept. of Corrections, at a NZ conference on restorative justice, and at Fulbright New Zealand. She recently published two new articles:
(2013) "Incurable Sex Offenders, Lousy Judges & the Media: Moral Panic Sustenance in the Age of New Media," American Journal of Criminal Justice, vol. 38, No. 1, pp. 160-181.
(2012) "Redeeming Communities: Restorative Offender Reentry in a Risk Society," Victims & Offenders, vol. 7, No. 1, pp. 97-120.
The field of disaster research, which Associate Professor Alice Fothergill helped pioneer, continues to grow and attract attention, as evidenced in the release of the second edition of her co-edited volume, Social Vulnerability to Disaster. From 9/11 to Katrina to Fukushima and beyond, disasters not only create headlines but reveal social vulnerabilities and raise numerous social issues. Fothergill's study with Lori Peek, Children of Katrina, will be published by University of Texas Press.
Associate Professor Lutz Kaelber's work on the history of eugenics in Europe and the U.S. continues to gain attention in the press and among policymakers and activists. Because of his ongoing work on both Nazi and U.S. eugenics efforts – including forced sterilizations in Vermont in the 1920s and in North Carolina up into the 1960s – in 2013 Kaelber has been approached for information and interviews by BBC America, Al Jazeera America, Russia Today, WCAX, and the Rocky Mountain Down Syndrome Association, as well as by a journalist contributing to The New Yorker's "Elements" blog and an individual working for Catholic Charities West Virginia.
His recent publications and presentations on the topic include,
"Jewish Children with Disabilities and Nazi 'Euthanasia' Crimes." Bulletin of the Carolyn and Leonard Miller Center for Holocaust Studies, University of Vermont 17 (2013).
"'Eugenic' Sterilizations in the United States: A Historical Comparative Analysis." Presented at the annual meeting of the Eastern Sociological Society, Boston, spring 2013.
Edited contribution accepted for publication: "Eugenics." Wiley-Blackwell Encyclopedia of Health, Illness, Behavior and Society, edited by William C. Cockerham, Robert Dingwall, and Stella Quah. Oxford: Wiley-Blackwell.
Professor Thomas Streeter edited a collection of articles forthcoming this fall in Communication, Culture, and Critique on the study of discourse, of language and style, in communication policy formation. Articles cover topics ranging from the role of comic books in copyright policies to the discursive character of the net neutrality debates, and include a piece by Streeter, "Policy, Politics, and Discourse."
Professor Beth Mintz continues her work on problems in contemporary higher education. For example, she presented a paper at the annual meeting of the American Sociological Society in August entitled, "The Revenge of Neoliberalism: The Student as Customer and the Student Debt Crisis." She also remains involved in many leadership roles at UVM and in the field, as evidenced in a paper delivered at the Eastern Sociological Society in Feb. entitled, "The Faculty Women's Caucus as an Organizing Tool: Parental Leave at the University of Vermont." She also recently completed a term as Vice President of the Eastern Sociological Society.
Professor Daniel Krymkowski continues his work using quantitative analysis to explain the cultural, class, and ethnic factors that explain why and how some people use outdoor recreation more than others. His recent article, comparing U.S. and Turkish use of national parks, "Cultural Influence on Crowding Norms in Outdoor Recreation" (with Sayan, Manning, Valliere, and Rovelstad), was published in Environmental Management in May, 2013.
Professor Emeritus Stephen Cutler continues his research on aging and the life course in Romania and elsewhere, publishing and presenting works both in Romania (e.g., "Long-term Implications for Widowhood of Romania's Decree No. 770," REVISTA DE ASISTENTA SOCIALA) and elsewhere (e.g., with Hodgson, "Concerns about Cognitive Functioning, Dementia Worries, and Psychological Well-being," paper to be presented at the 23rd Alzheimer Europe Conference, St. Julian's, Malta, 10-12 October, 2013.)