CAS Department Updates for September 2011
Chemistry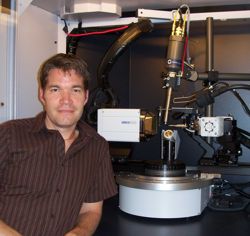 Earlier this year, Assistant Professor Rory Waterman (pictured at left) was awarded about $300,000 to purchase a new X-ray diffractometer (XRD) from the National Science Foundation (NSF). The award came from the Major Research Instrumentation (MRI) grant program at the NSF through the Division of Chemistry. The award will help support the research of Waterman, other professors and students in Chemistry, and in other departments on campus (e.g., Geology and Physics) who have a demonstrated need for a single crystal XRD to collect structural data on crystalline solids at UVM for the first time in more than a decade. A diffractometer provides students a direct link between the physical phenomena students learn in the classroom (here, the interaction of light and solids) to determine molecular structure. X-ray diffraction is an ideal technique to visualize molecules, and a number of graduate and undergraduate students are already using this instrument to do exactly that. The photo shows Waterman standing next to the Bruker Smart Apex II XRD instrument that was installed in early summer 2011.
Since the instrument was installed, Professor John Hughes (Geology) and Waterman have already submitted several publications that have used the new instrument. Recently, Waterman submitted a publication from his laboratories involving new zinc chemistry, which features current senior Ben Vaughan and 2011 graduate Eliza Arsenault (BS, Chemistry) as co-authors. Ben will be applying to graduate programs in chemistry after graduation, and Eliza has started the MAT (Masters of Arts in Teaching) degree program at UVM.
Waterman received a Miller Institute for Basic Research in Science Research Fellowship (2004-2007). He was awarded a prestigious National Science Foundation CAREER Award (2008), a Research Corporation Cottrell Scholar Award (2009), and an Alfred P. Sloan Foundation Research Fellowship (2009).
English
English professor Huck Gutman, on leave from his 40-year post at the university to serve as chief of staff for Sen. Bernie Sanders, was profiled in The Boston Globe article, "A Poetic Respite from Politics," for bringing bipartisan respite to the contentious rhetoric of Washington.
His periodic emails, which include a poem – anything from the Ancient Greeks to Emily Dickinson – along with detailed analysis, are distributed to 1,700 readers including all Senate chiefs of staff, several White House staffers, university presidents, academics, journalists and former students. The idea, Gutman told the Globe, is "'to remind (people) there are other things than the debt ceiling and Social Security,'" such as "'...the noncombatant pursuits of intellectual pleasure and personal enrichment.'" Read the story at Boston.com.
History
Books Published by History Faculty in Spring/Summer 2011:
Charlie Briggs, Lecturer, The Body Broken: Medieval Europe 1300-1520 (London and New York: Routledge 2011).
Dona Brown, Associate Professor, Back to the Land: The Enduring Dream of Self-Sufficiency in Modern America (University of Wisconsin Press, 2011).
Melanie Gustafson, Associate Professor, editor, American Centuries: The Ideas, Issues and Values That Shaped U.S. History, Volume 4: The Nineteenth Century (MTM Publishing, 2011).
David Massell, Associate Professor, Quebec Hydropolitics: The Peribonka Concessions of the Second World War (McGill-Queen's University Press, 2011).

Visiting Faculty Positions:
Alan E. Steinweis, Professor of History and Director of the Miller Center for Holocaust Studies, was on leave from UVM during the spring 2011 semester in order to serve as a visiting professor of Holocaust Studies and German-Jewish History at the Fritz Bauer Institute at the University of Frankfurt.
Associate Professor Abigail McGowan finished a stint during her 2010-2011 sabbatical as a fellow at the Centre for Environmental Planning and Technology in Ahmedabad, India where she was working on a project that explores changing ideas about domestic architecture, town planning, and domestic furniture in modern India.

Offices in Scholarly Organizations:
In fall 2011, Melanie Gustafson finished a one-year term as President of the New England Historical Association.
In 2010-2011, Paul Deslandes, Associate Professor, became (for a three-year term) the Associate Executive Secretary of the North American Conference on British Studies.
Music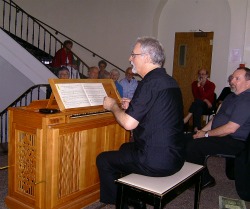 Professor David Neiweem (pictured at left) was named Artist of the Year for 2011 by the Vermont Chapter of the American Guild of Organists. In large part, this was due to his recent efforts to make the organ and organ music more widely known and appreciated around the state. A few years ago he turned the sale of one of the department's practice organs into an opportunity to buy a portable pipe organ with the proceeds. This has enabled him to travel around the state and play organ recitals as well as do accompanying.

In June he played a recital at UVM on its three organs as part of the festivities surrounding this award. He performed on the Rodgers electronic organ in Ira Allen Chapel, the Fisk organ in the Recital Hall, and the Klop portable organ, placed for the occasion in the foyer of Southwick (pictured) with its wonderful acoustics.

Political Science
Allison Lehrer, a 2011 graduate in Political Science, was named the national runner-up for Best Honors Thesis in the U.S. by Pi Sigma Alpha, the National Political Science Honor Society. Ms. Lehrer's thesis was entitled "Diversity on the Bench: The Appointment of Women to the Federal Courts." Her faculty supervisor, with whom she worked closely on the project, was Associate Professor Lisa Holmes. Lehrer's thesis was also the winner of the Politcal Science department's Alan Wertheimer Award for the outstanding senior honors thesis.

It was the third consecutive year that a UVM political science student was either the winner or runner-up in the national competition. Caryn Devins, currently a law student at Duke University, was runner-up in 2010, and Peter Johannessen, currently pursuing a Ph.D. in political science at Princeton University, was the winner of the competition in 2009.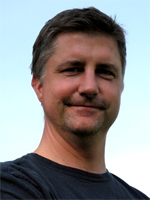 Associate Professor Anthony Gierzynski (pictured at left) presented a paper (coauthored with UVM student Julie Seger, class of 2011), "Harry Potter and the Millennials: The Boy-Who-Lived and the Politics of a Muggle Generation." The paper reports research that originated with Gierzynski's POLS237, "Film, TV and Public Opinion," class in the spring 2009 semester. The entire paper can be found on the Social Science Research Network web site: http://papers.ssrn.com/sol3/papers.cfm?abstract_id=1902219. The abstract for the paper is as follows:

"In this paper we report research on the political impact of the Harry Potter series on the politics of the Millennial Generation. The Harry Potter series is rich with lessons that are relevant to politics—acceptance of differences, support for political tolerance and equality, anti-authoritarianism, opposition to the use of violence and deadly force, and the corruptness and ineptitude of politicians. We tested whether exposure to the series was related to individuals' perspectives on such issues using a survey of college students at a number of different colleges and universities. Our findings indicate that Millennials who became immersed in the story of the boy-who-lived are different from their fellow Millennials with regard to these politically relevant perspectives, and, furthermore, our findings suggest that the Harry Potter series had something to do with these differences."

Professor Robert Bartlett presented a paper (co-authored with Walter F. Baber), "Juristic Democracy: Macro-Political Uptake of Mini-Public Deliberative Judgments of Hypothetical Scenarios," at an international conference on global democracy hosted by the Centre for Deliberative Democracy and Global Governance, Australian National University, Canberra, Australia, on August 4-5, 2011. Professor Bartlett was a Visiting Scholar at the Centre for two weeks.

Professor Gregory Gause debates the American intervention in Libya and the larger question of American policy in the Middle East. Watch the debate here: http://bloggingheads.tv/diavlogs/38730.
Associate Professor Caroline Beer was invited to present her research on subnational gender equality in Mexico at the General Conference of the European Consortium for Political Research in Reykjavik, Iceland in August 2011.

Romance Languages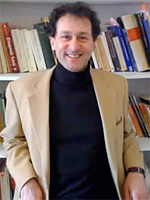 The poetry of Associate Professor of Italian, Antonello Borra (pictured at left), was recently featured in the prestigious Italian poetry magazine In forma di parole. The magazine dedicated its latest issue, just released during the summer, to Italian poets living in the United States. Borra received his Laurea in Lingue e letterature straniere moderne (English and Spanish) from the Università degli Studi di Torino, Italy, in 1988, and both his M.A. (1993) and his Ph.D. (1998) in Italian Studies from Brown University. He regularly contributes poems, translations, and critical articles to several journals and magazines both in Italy and the United States. His poems have been translated into English, Catalan, and German.
Sociology

A specialist in the new but burgeoning field of Sociology of Disasters, Associate Professor Alice Fothergill (pictured at left) is completing a second book, under contract with the University of Texas Press. Based on years of research, Children of Katrina is about the social and psychological effects of Hurricane Katrina and its aftermath on the lives of children. Fothergill has recently received substantial press attention in the wake of Irene: http://www.burlingtonfreepress.com/article/20110913/NEWS0213/110912017/Disaster-sociology-class-takes-up-Irene-s-toll-Vermonters
Assistant Professor Nikki Khanna has just published her book, Biracial in America: Forming and Performing Racial Identity, Lanham, MD: Lexington Books (September 2011). The book breaks new ground in our understanding of what it means to be of mixed racial heritage in the U.S. Some of the research for that book was previously quoted heavily in the media, including on NPR's Talk of the Nation and Time magazine: http://healthland.time.com/2010/12/16/passing-as-black-how-biracial-americans-choose-identity/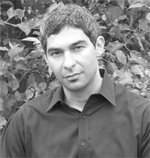 Associate Professor Thomas Macias (pictured at left) is part of a team at the Transportation Research Center examining the public's understanding of tailpipe emissions. Dr. Macias believes the more socially networked people are, the more social capital they have — and the more likely they are to be active citizens in society. In a series of focus groups, Dr. Macias found that many citizens don't think about tailpipe emissions or their own behavior in causing them. When asked how they could reduce emissions, most suggested carpooling, walking and biking; however, knowledge did not translate to behavioral change. The research continues in an effort to understand how social capital affects people's motivations and barriers to behavioral change related to tailpipe emissions.