CAS Department Updates for November 2010
News from the Department of Anthropology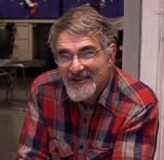 Congratulations to the thirteen Public Anthropology Award Winners at the University of Vermont in Professor Robert Gordon's Anthropology 021 (Human Cultures) class who participated in a North American competition involving over 4,000 students from twenty-one schools.
Professor Gordon has played an integral part in Public Anthropology's online student community, showcasing the ability of UVM students to learn effective writing skills while being active global citizens. He demonstrates how combining technology with cultural concerns in academic courses positively engages students to participate in the broader world beyond their university, while gaining the skills needed for a productive, active life after graduation. Gordon is committed to a scholarly, rigorous, engaged anthropology focused on problems which poor and victimized people define as important. After teaching and fieldwork in Papua New Guinea, he has largely focused on the "Bushmen" (or San or ju-hoansi) of South West Africa. His work has appeared in English, German and French. Among his books are Mines, Migrants and Masters, Law and Order in the New Guinea Highlands (with Mervyn Meggitt), The Bushman Myth, Picturing Bushmen, and The Meanings of Inheritance. He has over 140 publications to his name and was named a University of Vermont Scholar in 2007-08.
For the names of the Vermont Public Anthropology Award winners as well as their award-winning opinion pieces, please visit: http://www.publicanthropology.org/CAW/10-Fall/PAA-2RG3UVM.htm

******
News from the Department of Biology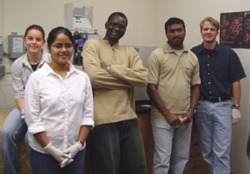 Dr. Bryan A. Ballif, Assistant Professor of Biology, and his students are using cutting-edge biochemical and proteomic methods to study the molecular mechanisms of brain development in his laboratory in the Department of Biology. The National Science Foundation (NSF) has recently awarded Dr. Ballif a four-year $510,729 grant to continue his studies. During brain development many neurons migrate from their places of birth and are guided by cues in their environment to make the critical connections and structures of a functioning brain. Dr. Ballif's study will use biochemical and newly developed proteomic approaches, which Dr. Ballif helped pioneer, to study proteins that are known to be essential for neuronal positioning. Additionally, the grant funds the teaching of a proteomics module at UVM, and in collaboration with the Vermont Genetics Network outreach team, at eight baccalaureate institutions throughout Vermont. The grant also provides summer stipends for four undergraduates and two graduate students for each of the four years of the grant. Pictured is Dr. Ballif (far right) with his students from left to right: CAS Biochemistry '10 alumnus Gwen Buel, and Biology graduate students Rima Saha, Bior Bior and Mujeeb Cheerathodi.
Dr. Ballif was also invited to speak this past summer at the Max Planck Institute for Molecular Genetics in Berlin, Germany as part of the Dahlem Colloquia in Molecular Genetics. The invitation stated: "The Dahlem Colloquia in Molecular Genetics are the most prestigious seminar series to be held at the Planck Institute for Molecular Genetics. The speakers are internationally recognized leaders in their field." Former Dahlem Colloquia speakers include, David Baltimore, Mans Ehrenberg, Elisa Izzauralde, Fabio Piano, John Mattick, George Church, Stefan Beck and Robert Weinberg (who spoke two weeks before Dr. Ballif). Dr. Ballif's seminar was entitled, "Proteomic Journeys Exploring the Networks and Nodes of the Signal Transduction Superhighway: A Dab of CrkL leads to a Rsk-y path of Ras regulation."
******
News from the Department of Political Science
Associate Professor Ellen Andersen and her co-authors were awarded the 2010 "Best Article" award from the American Sociological Association's section on Collective Behavior and Social Movements. Social movement scholars have long been skeptical of culture's impact on political change, perhaps for good reason, since little empirical research explicitly addresses this question. This article fills the void by examining the dynamics and the impact of the month-long 2004 same-sex wedding protest in San Francisco. The paper (link to abstract), published in the American Sociological Review in its December 2009 edition, is entitled "Culture and Mobilization: Tactical Repertoires, Same-Sex Weddings and the Impact on Gay Activism."

Professor Frank Bryan, a member of the Board of Trustees for the Vermont Historical Society, was recently appointed to the Executive Committee of that body and named chair of the Committee on Research and Publication.

Associate Professor Caroline Beer gave the keynote address for the Congreso de la Asociacion Mexicana de Estudios Parlamentarios (The Conference of the Mexican Association for Parliamentary Studies), on Thursday, September 23 in Aguascalientes, Mexico.

Professor Gregory Gause spoke to Vermont Public Radio on September 10 about the Quran-burning kerfuffle. Gause tells VPR's Mitch Wertlieb that Terry Jones is very much a 21st-century media phenomenon. To listen to the interview, click here.
Professor Emeritus Alan Wertheimer just published a new book, Rethinking the Ethics of Clinical Research: Widening the Lens, with Oxford University Press. Clinical research requires that some people be used and possibly harmed for the benefit of others. What justifies such use of people? This book provides an in-depth philosophical analysis of several crucial issues raised by that question. More on Wertheimer's book can be found at: http://www.oup.com/us/catalog/general/subject/Philosophy/EthicsMoralPhilosophy/BiomedicalEthics/?view=usa&ci=9780199743513