CAS Department Updates for February 2012
Economics
The Atlantic featured research by Associate Professor and Chair Sara Solnick finding that the more non-diet soda teens drink, the more prone they are to violence, with higher consumers more likely to carry a weapon and act violently toward peers and siblings. Read the article at TheAtlantic.com... VPR also talked with Solnick about her study linking teen soda consumption to violence. Listen...
Geography
Associate Professor Lesley-Ann Dupigny-Giroux was appointed to the National Oceanic and Atmospheric Administration (NOAA) Science Advisory Board R&D Portfolio Review Task Force. One of the primary goals of this task force is to prioritize NOAA's research agenda for the future. NOAA is the parent agency of the National Weather Service (among others). Professor Dupigny-Giroux is also the lead author on a forthcoming article entitled "The Satellites, Weather and Climate (SWAC) teacher professional development program: Making the case for climate and geospatial literacy." The SWAC program is an NSF-funded professional development program for K-12 science and mathematics teachers to increase their climate and geospatial content knowledge and skills.

Associate Professor Beverley Wemple is the co-author of a recently published article "Spatial patterns of soil nitrification and nitrate export from forested headwaters in the northeastern United States" that appeared in the prestigious Journal of Geophysical Research - Biogeosciences.
Undergraduate students Allison Tompkins, Meghan Arpino, Eliza Thompson, and Joseph Acampora recently learned that their application for an IRENE Undergraduate Research Summer Mini Grant to support their project entitled "Conducting a synoptic meteorological and geospatial analysis of the extreme precipitation during Tropical Storm Irene: A contribution to flood mitigation planning" was approved by the Undergraduate Research Advisory Committee.

History
Lecturer Andrew Buchanan published an article "The War Crisis and the Decolonization of India, December 1941 – September 1942: A Political and Military Dilemma" in the latest issue of Global War Studies, Vol. 8 No. 2.

Lecturer Charles Briggs was made a Fellow of the British Royal Historical Society in December 2011.
Music
On Saturday, March 24th, at 7:30 p.m. in UVM's Southwick Hall Ballroom 301 on the Redstone Campus, the Patricia Julien Project is giving a concert to celebrate the release of their new recording "Still Light At Night." They will play mostly original compositions ranging from straight-ahead and free jazz to funk. The concert is free and open to the public.

The University Symphony Orchestra, under the direction of Assistant Professor of Music Yutaka Kono, will perform Associate Professor Patricia Julien's arrangement of Thelonious Monk's "Round Midnight" on Tuesday, April 17th at 7:30 p.m. in the UVM Recital Hall, Redstone Campus.
Political Science
How stable is Saudi Arabia in a changing political climate with aging heirs to the throne and a rapidly growing population? Political scientist and Middle East expert Gregory Gause analyzes the situation for the Council on Foreign Relations. Read the story at CFR.org... Gause was also quoted in the New York Times on October 24, 2011 on succession in Saudi Arabia.

Robert V. Bartlett, Professor and Gund Chair of Liberal Arts, and Walter F. Baber, Associate Professor in the Graduate Center for Public Policy and Administration, California State University, Long Beach, had their article "International Law and Global Climate Change" published in The Oxford Handbook on Climate Change and Society, ed. John S. Dryzek, Richard B. Norgaard, and David Schlosberg, New York: Oxford University Press, 2011, pp. 653-665. The Oxford Handbook of Climate Change and Society is a definitive analysis drawing on the best thinking on questions of how climate change affects human systems, and how societies can, do, and should respond. Key topics covered include the history of the issues, social and political reception of climate science, the denial of that science by individuals and organized interests, the nature of the social disruptions caused by climate change, the economics of those disruptions and possible responses to them, questions of human security and social justice, obligations to future generations, policy instruments for reducing greenhouse gas emissions, and governance at local, regional, national, international, and global levels.

Associate Professor Alex Zakaras appeared on the national public radio show "On Point" on January 4, 2012 discussing Emerson's famous essay "Self-Reliance." Listen here.

Romance Languages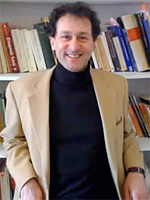 A fourth volume of poetry, Alphabetabestiario, by Associate Professor of Italian Antonello Borra (pictured), was released last October by Burlington based Fomite Press: http://www.fomitepress.com/FOMITE/AlphaBetaBestiario.html. It features the original Italian poems, the English translations by Blossom S. Kirschenbaum, illustrations by artist Delia Robinson, a foreword by Greg Delanty, and an afterword by Camillo Pennati.
Borra's poems have also recently been included in the following anthologies: Animalidiversi, edited by Eloisa Guarracino, Nomos Edizioni, Varese, 2011; Il segreto delle fragole 2012, edited by Anna Maria Farabbi e Maria Luisa Vezzali, Lietocolle, Parè (Como), 2011; and Alfabeto Animale, edited by the Fondazione Zanetto, forthcoming in 2012.