CAS Department Updates for February 2011
News from the Department of Anthropology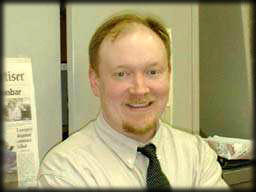 The Center for a Public Anthropology has announced that Professor Cameron Wesson has won Public Anthropology's Eleanor Roosevelt Global Citizenship Award. Named to honor the 20th century's "First Lady of the World," this award recognizes Dr. Wesson's exceptionally effective participation in Public Anthropology's Community Action Online Project as wel asl his wider activities in the public sphere. Only a select few – less than 1 percent of the faculty teaching introductory anthropology courses across North America – receive this award.
According to Dr. Rob Borofsky, Director of the Center for a Public Anthropology and Professor of Anthropology at Hawaii Pacific University, "Prof. Wesson is to be commended for how he takes classroom knowledge and applies it to real world challenges, thereby encouraging students to be responsible global citizens. In actively addressing important ethical concerns within anthropology, Prof. Wesson is providing students with the thinking and writing skills needed for active citizenship."

News from the Department of Biology
Graduate Student, Nilanjan Lodh, presented a poster titled "The 18SrDNA and ITS-1 variability of Myxobolus cerebralis, the causative parasite of the Whirling Disease," at the New England Association of Parasitologists 18th Annual Meeting on November 13, 2010 at the University of Massachusetts, Amherst.
Over the course of more than 12 years Dr. Juan Arratia of the Ana G. Méndez University System in Puerto Rico has developed and directed a top-notch research and mentoring program funded by the National Science Foundation for undergraduate and pre-college students in Puerto Rico. This year UVM scientists will host ten undergraduate and five pre-college students as part of Dr. Arratia's NSF-funded mentoring program, which dove-tails with the broader impact goals of NSF-funded researchers at UVM. Dr. Jim Vigoreaux, Biology Department Chair, has been the primary facilitator coordinating these mentoring efforts at UVM. Students participating in these programs frequently gain admittance to both undergraduate and graduate programs where they conduct their research. Indeed, our very own Yainna Hernaiz Hernandez is an alumnus of this program and is currently a Biology Ph.D. student under the supervision of the late Dr. Kurt Pickett. Ties were further strengthened when Dr. Bryan Ballif, Assistant Professor of Biology at UVM and Co-Director of the Vermont Genetics Network Proteomics Facility, was invited to give the keynote address at the 2010 pre-college symposium in Puerto Rico on December 12, 2010. Dr. Ballif also participated in judging student oral and poster presentations.
News from Global and Regional Studies
The UVM Latin American Studies Program Gets a New Name

The Latin American Studies Program has changed its name to the Latin American and Caribbean Studies Program. While the Latin American Studies Program had long considered the Caribbean part of Latin America, there were some misunderstandings about the relationship of non Spanish-speaking Caribbean countries to the program. Over the past few years, the university has hired a number of Caribbean specialists and the Latin American Studies Program wanted to clarify its commitment to including all of the Caribbean within its program. As a result, we decided to change the name to the "Latin American and Caribbean Studies Program."

In other program news, Caroline Beer has temporarily stepped down as the Director of Latin American and Caribbean Studies to take a fellowship at the U.S.-Mexican Studies Center at the University of California, San Diego. Prof. Alex Stewart from the Music Department has taken over as Interim Director of the Latin American and Caribbean Studies Program. Prof. Stewart can be reached at Alexander.Stewart@uvm.edu.
News from the Miller Center for Holocaust Studies
The Miller Center for Holocaust Studies at UVM has established a mailing list (listserv) for members of the community who would like to receive notices about the many guest lectures and other public programs sponsored by the Center. If you would like to join the mailing list, please refer to the following directions:
To join the list, send an email message to listserv@list.uvm.edu and place a subscribe command, sub chs your_name_here, in the body of the message. Replace "your_name_here" with your first and last name, for example:
sub chs Mary Smith

(You may receive a confirmation message from LISTSERV, just follow the instructions in the message.)
News from the Department of Music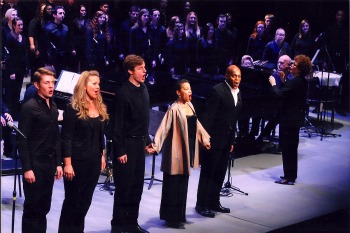 2010 Music and Sociology graduate Sam Sherwood participated in a tribute to American composer Leonard Bernstein at New York City's Symphony Space this past November. Sam, third from the left, is singing the role of Maximilian in the rousing closing number, "Make Our Garden Grow," from Bernstein's Candide. Joining Sam on stage are internationally known soprano Harolyn Blackwell and baritone Jubilant Sykes. In December Sam and his chorus sang in a holiday concert at Carnegie Hall with Broadway star Brian Stokes Mitchell. To learn more about Sam, visit his website: www.sherwoodsounds.com.
News from the Department of Physics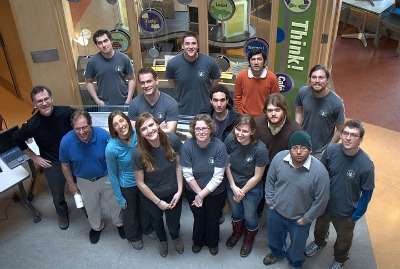 Congratulations to Dave Hammond and the UVM Society of Physics Students for their highly successful program "Physics Fun@ECHO" held Saturday, January 29 at ECHO Science Center. Over 400 people learned about lake-related physics topics such as buoyancy, waves, solitons and seiches. UVM physics students performed demonstrations and engaged the public in discussion of the science. Many of these demonstrations were designed and built by Dave Hammond. Physics Department Chair Dennis Clougherty says, "I am very grateful to Dave and the students for their efforts." The photo of the UVM Physics/ECHO team is courtesy of Professor Madalina Furis. Back row, left to right: Jacob Wahlen-Strothman, Lane Manning, Anand Sharma, Colin Riggs. Middle row: Dennis Clougherty, Owen Myers, Mateus Teixeira, Dan Khalaf, Ian Goyette. Front row: David Hammond, Lisa Carpenter, Isabel Kloumann, Megan Force, Stephanie Young, and Naveen Rawat.
News from the Department of Political Science
Professor Anthony Gierzynski received a James M. Jeffords Center Signature Award for a second year of funding for the Vermont Legislative Research Service (www.uvm.edu/~vlrs).
Three members of the department will access the Rakin Foundation Grant to support their research over the coming months. Each will receive $2,000 and, in each case, that money will be used to support travel to do field work in their areas of study: Caroline Beer for work on women and transition to democracy in Mexico; Peter vonDoepp for work on state-media relations in new African democracies; and Michele Commercio for work on women and identity politics in post-Soviet Kyrgyzstan and Tajikistan. All three proposals fit very nicely into the original terms of Mr. Rakin's bequest, which called for supporting the efforts of states to transition to democracy and supporting academic work that contributes to our understanding of such transitions.

Professor Frank Bryan has been awarded the 2010 National Association of Secretaries of State Medallion Award "for his commitment to preserving the town meeting tradition in Vermont." The award was presented at a ceremony at the Vermont State House in Montpelier on December 21, 2010.

Robert V. Bartlett, Gund Professor of Liberal Arts, presented a research paper "Democratic Deliberation and the Normative Dimensions of Environmental Change: Mapping and Developing Consensus for Governance," at the 2010 Berlin Conference on the Human Dimensions of Global Environmental Change, on October 9, 2010. The paper was co-authored by Walter F. Baber, California State University Long Beach.
Professor Deborah Guber's article " 'Make of Them Grand Parks, Owned in Common': The Role of Newspaper Editorials in Promoting the Adirondack Park, 1864-1894," appears in the current edition of the Journal of Policy History.