CAS Alumni Updates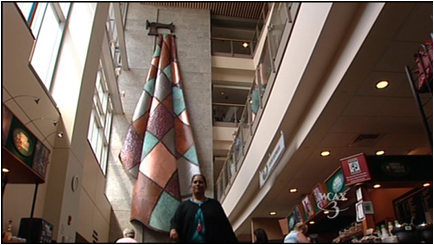 CAS alumna and artist Katherine (Kat) Clear spent three months designing a 40-foot tall sewing machine that was installed this summer in the lobby of Fletcher Allen Health Care (picture courtesy of WCAX). Funding was provided by an anonymous donor, whose one stipulation was that a local artist create the commissioned artwork.
Kat Clear's formal art education began at the University of Vermont. She was drawn to three-dimensional art, and Professor Barbara Zucker influenced her move into sculpture. In 2000, Clear attended the California College of Arts and Crafts, where she studied metalworking. After graduation she began her career in pursuit of the arts. She produced her first body of work under the mentorship of sculptor Bill Heise. Clear currently makes sculpture and custom metalwork at ST Griswold, where she shares shop space with and assists sculptor Kate Pond. Clear currently serves as a teaching assistant to lecturers in the Art and Art History Department at the University of Vermont. In her spare time she mentors high school students.
To read more about the 40-foot sculpture, go to:
http://www.wcax.com/global/story.asp?s=10628225
To read more about Kat Clear's artwork, go to:
http://www.katherineclear.com/about.html
******
Music alumna Maria S. Guarino (class of 2003) is in her third year of the Ph.D. program in Critical and Comparative Studies in the McIntire Department of Music at the University of Virginia. An ethnomusicologist, she is currently preparing a dissertation project that engages musical performance in two Benedictine monasteries in Vermont and Quebec, looking at the role of sacred music in the creation and expression of religious identity.
******
Kristina Jacobsen, a Music major who graduated in the class of 2000, is a Ph.D. candidate in cultural anthropology at Duke University. She is currently doing dissertation fieldwork on the Navajo Nation, where for her research she sings and plays lapsteel guitar with a Navajo country western band.
******
Since graduating from UVM, Music major Spencer Hutchings (class of 2001) has earned a Masters degree in Classical Guitar Performance from the University of Colorado at Boulder, where he went to pursue a Ph.D. in Musicology. By spring he will be concluding his dissertation entitled, "Another Music of the Soul: The Musical Aesthetics of Alphonse de Lamartine in the Context of Nineteenth-Century French Romanticism."
Spencer continues to perform the occasional classical guitar recital, but most of his time is devoted to a non-profit organization, The Anthropedia Foundation, where he has worked since its conception. Anthropedia promotes well-being through educational and multi-media materials, spanning numerous fields of research - from medicine, psychology, and education to public health and art. Spencer is part of a small team whose work involves composing, performing, and producing music for the foundation's various projects.
******
Janice G. Weinraub, College of Arts and Sciences' class of 1954, informed the Dean's office recently that her husband, Ronald Orrin Weinraub, class of 1954, and Med (MD) class of 1959, passed away August 27, 2009 in Greece, New York, following an illness.
Survivors are his daughter by his first marriage (to Janice Gaylord, class of 1954), Gayle Anna Weinraub of San Antonio, TX; stepdaughter Krista (Steven) Millspaugh; sons Eric and Breton Weinraub; brother Edwin Weinraub; and three grandchildren born of his second marriage. He was pre-deceased by his parents Emanual and Esther Weinraub, his second wife Barbara, and his second-born daughter Linda Behr Weinraub. Funeral and interment were on September 3, 2009 in the Rochester, New York area.