Billings Renovation Moves Forward
Plans for relocating Special Collections, the Center for Research on Vermont, and the Carolyn and Leonard Miller Center for Holocaust Studies into a renovated Billings Library are moving forward. Schwartz/Silver Architects of Boston recently completed a set of sketches of the proposed renovations, thanks to the generosity of J. Brooks Buxton (UVM '56). Although the project has no timetable yet—that will depend partly on fundraising trends over the next twelve months or so—Jeffrey D. Marshall, Director of Special Collections, expects that the years to completion can be counted on one hand rather than two.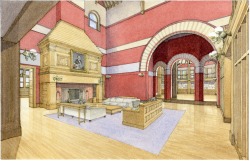 What will the new Billings Center be like? Imagine entering the Great Hall through the arched doorway. One encounters various conversations as groups of students, faculty, and guests lounge in front of the magnificent stone fireplace. A greeter at a small desk directs visitors to offices and events. In the Marsh Room, behind the fireplace, a class of undergraduates gets a hands-on look at artists' books, undisturbed by all the activity in the adjacent rooms.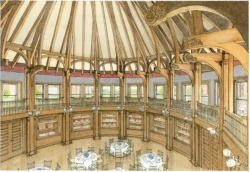 Under the conical roof of the Apse, with its spectacular carved wooden beams, quiet study space is available for much of the day, although the room remains a perfect location for occasional receptions. Numerous recessed exhibit cases, individually controlled for climate and security, encircle the room.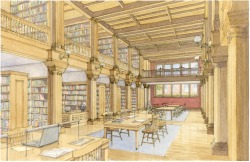 The long hall of North Lounge is now the reading room for Special Collections. Book shelves have been restored to the alcoves along the east and west sides, and a center alcove serves as a reference office and service area. Most of the collection, however, is stored two floors below, accessible to staff by elevator. The ground floor of the Billings addition of 1986, designed as office space for student activities, has been completely cleared out to make way for compact shelving units, work areas, and staff offices. Combined with the below-ground level of Ira Allen Chapel, this area more than doubles storage capacity for Special Collections. More important, it features state-of-the-art climate control and security for rare and unique collections.
Above the North Lounge reading room, the east and west balconies are occupied respectively by the Center for Research on Vermont and the Center for Holocaust Studies. The two centers share a small conference room at the north end of the floor. Both of these programs collaborate with Special Collections to build collections, provide public programming, and offer opportunities for scholars to conduct research.
It's clear that Billings will continue to be a dynamic academic center, a crossroads and meeting place for the campus community, for visiting scholars, and the general public.