Spotlight on the Department of Asian Languages and Literatures

The Department of Asian Languages and Literatures is the newest department at UVM; it may also be the smallest. At its founding in September 2007, it had four full-time faculty members and one part-time faculty member. Today it has six full-time faculty, three part-time visiting faculty members, and a part-time staff person. In the past four years, the Department has made great progress.
In fall of 2008 the Department began to offer major concentrations in both Chinese and Japanese language programs, and both programs now offer language courses at all levels throughout the four undergraduate years. That same year, Alice Wang was hired as the Department Administrative Coordinator and, after a national search for a tenure-track Japanese assistant professor, Kyle Ikeda joined the faculty and began to teach Japanese literature and Japanese language. Since fall 2008 the Chinese Program has regularly had two Chinese instructors from China teaching language courses and assisting in extracurricular activities related to China, thanks to the generous support and sponsorship of the Chinese Language Council International. And in spring 2009, Darius Jonathan, Senior Lecturer of Arabic, came to UVM to teach Arabic language courses.
Each semester 130-150 students take either Chinese or Japanese languages courses. Currently, 30 students are majoring in Chinese and 31 in Japanese. In addition, 36 students have a minor concentration in Chinese and 24 students in Japanese. Arabic language courses at the elementary and the intermediate levels enroll about 50 students.
All Asian Languages and Literatures faculty members view teaching as their number one responsibility, and all have consistently received excellent course evaluations from their students. All are also keenly aware that learning a language in class is far from enough. Therefore, they are all engaged in organizing extracurricular activities to provide students with opportunities to practice and use the language skills learned in class or to experience the culture of the language they are learning. Students learning Arabic, Chinese, or Japanese can choose to live in Arabic House, Chinese House, or Japanese House at the Global Village, which is located at the Living and Learning Center. Students in each of these Houses come together after class and regularly participate in language and cultural activities such as seeing movies, playing games, and cooking. Chinese language students can attend the Chinese Tea Hour, which is held at 4:30-5:30 pm on Fridays at International Lounge (L/L B180), to interact in Chinese with visiting instructors from China over a cup of tea. Japanese language students can attend workshops on Japanese culture regularly and learn to sing Japanese pop songs by attending J-Pop Meeting at 6:00-7:00 pm every other Wednesday. Arabic language students can make an appointment to meet with Mr. Jonathan or his volunteer Arabic speakers to practice Arabic.
The Department encourages students who have completed at least one academic year of Arabic, Chinese, or Japanese language at UVM to study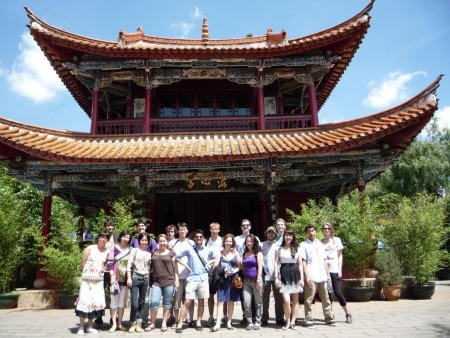 abroad in countries where the target language is spoken as a native tongue to improve fluency in the language and acquire first-hand cultural experience. The Japanese Program has made arrangements for UVM students to study abroad at several universities in Japan. From 2008 to 2010, Kazuko Carlson took several groups of Japanese language students on study tours to Japan. Darius Jonathan has arranged with American University in Cairo for UVM Arabic language students to study abroad in Egypt. The Chinese Program has a study-abroad program at Yunnan University in China, which has been operating for more than ten years. Last summer, a group of fourteen students (pictured) went there with their Chinese professors; four of them completed the summer program and returned to UVM in the fall, while ten others stayed at Yunnan University to continue their studies in China until mid-December this year.
This semester, Kazuko Carlson, Senior Lecturer of Japanese, is on maternity leave. On June 13, she gave birth to a healthy and beautiful baby girl, who was named Alina Kazumi Carlson by Kazuko and her husband Matthew. Kazuko's replacement is Ms. Natsumi Ueno, who graduated from University of Oregon in 2009 with a Master's degree in linguistics and taught at Princeton University last year. She was appointed for the replacement position after a national search conducted earlier this year. This academic year, three new visiting instructors from China joined the Asian Languages and Literatures Faculty: Ms. Hui Liu from Yunnan University, Ms. Fei Lü from Wuhan University, and Ms. Chunjing Cao from Zhejiang Yuexiu University of Foreign Languages. They are all instructors of Chinese as a foreign language at their home universities in China, and are here to teach Chinese language at all levels and to help with extracurricular activities.
Kyle Ikeda was on junior faculty leave in the fall semester of 2010 working on his book manuscript on Okinawan novelist Medoruma Shun and his war memories of the Battle of Okinawa. His article on unarticulated memory in Medoruma Shun's early war fiction was accepted for publication in the journal Positions: East Asia Cultures Critique, and his revised translation of Medoruma's short story "Spirit Stuffing" (Mabuigumi) was published in the literary journal MÂNOA in the summer of 2011. He also presented his research at the Modern Languages Association's (MLA) annual meeting in January this year in Los Angeles, and at the Association of Teachers of Japanese conference, in conjunction with the Association of Asian Studies (AAS) meeting in April 2011 in Hawaii.
John Yin has continued his scholarly work on Chinese language pedagogy after having three books, twelve articles/book chapters, and three book reviews published from 2006 to 2010. His major work and publications are related to his quest for a more effective approach to teaching Chinese as a foreign language to English-speaking college students. In July 2011, he presented a paper entitled "Preliminary Exploration on Transition from Teaching Chinese to Foreigners in China to Teaching Chinese Globally" at the 9th International Conference on Chinese Pedagogy in Beijing, China. His paper is published in the 9th International Conference Proceedings. His article "Analytical Reasoning for Applying Computer Technologies to Chinese Character Teaching at the Entry Level in College" has been accepted for publication in the book Applications of Educational Information Technology in Chinese Language Teaching: Global Viewpoints of the 21st Century, which is to be published by Nanjing University Press this year.
Apart from teaching and research, Asian Languages and Literatures faculty members have actively shared their specialized knowledge through service to local, regional, national, and international organizations and communities. To mention but a few recent activities of this sort -- Diana Sun served as a peer reviewer in spring 2011 in response to an invitation by the Vermont Department of Education to assess the qualification of two applicants who were seeking a Vermont teaching license in the Chinese language. Also in spring 2011, Darius Jonathan helped the Gilman International Scholarship evaluate applications for scholarships to study in Middle Eastern countries. Mutsumi Corson helped with organizational work for the Biannual Japanese Festival at St. Michael's College last March.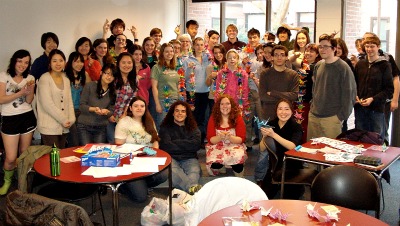 Kazuko Carlson coordinated a paper-crane-making project at UVM (pictured) and its surrounding areas in Vermont to raise funds for disaster relief in Japan after the massive earthquake and tsunami of March 11, 2011. Paper cranes worth $80,000 were made because of her coordination effort. Kyle Ikeda chaired two sessions of the New England Association for Asian Studies conference held at UVM in November of 2010. John Yin has continued to serve on the Editorial Board for the Journal of Chinese Language Teachers Association (JCLTA) for the sixth year and on the Board of Directors for the Chinese Language Teachers Association (CLTA) for the second year, and in the spring of 2011, he helped with paper evaluations as a reviewer for the 9th International Conference on Chinese Pedagogy. Since last November, he has been working as Program Chair for the 2011 CLTA Annual Meeting to be held in conjunction with ACTFL in Denver on November 18-21, 2011.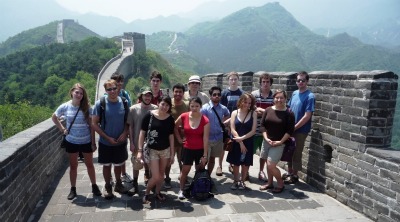 The success of the Asian Languages and Literatures faculty inevitably depends on how successful their students are. A number of students who graduated from UVM with a Chinese or Japanese major/minor in the last few years have found jobs or teaching positions that require them to use Chinese or Japanese. Others have been accepted into graduate programs because of the Asian language knowledge and skills they gained at UVM. These include Thomas Noel (Chinese Literature Doctoral Program at the University of Wisconsin at Madison); Phillip Guigona (Doctoral Program of Chinese History at the State University of New York at Buffalo); Jonathan Crowder and Paul Harchik (Master's degree Program of Chinese Studies at John's Hopkins University); Greta Mattessich, who studied both Spanish and Chinese at UVM (Law School at Georgetown University, pursuing dual degree in law and Master of Science in Foreign Service); John DeCosta, who studied Japanese at UVM (University of Hawaii's Asian Studies Master's program); and Anna Walsh, who has a BA in Japanese from UVM (Master's Degree in Teaching English to Speakers of Other Languages at St. Michael's College).

The Department of Asian Languages and Literatures has made great progress in the past four years and will continue to improve its teaching quality and academic vigor to help students at UVM to excel in learning Asian languages and literatures.