Art and Art History Visiting Artists
The Mollie Ruprecht Fund for Visiting Artists and Scholars presents artist Fred Tomaselli on Wednesday, November 16 at 5:30 p.m., and artist Sebastiaan Bremer on Wednesday, November 30 at 5:30 p.m.. Both events will be held in 301 Williams Hall.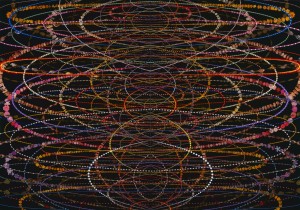 Fred Tomaselli's work is best known for his meticulous, seductive paintings made with unorthodox materials suspended in thick layers of clear, epoxy resin. These materials have included medicinal herbs, prescription pills and hallucinogenic plants, and images cut from books and magazines: flowers, birds, butterflies, arms, legs and noses, and are arranged in busy, carefully-crafted mosaic-type patterns. Tomaselli sees his paintings and their compendium of data as windows into a surreal, hallucinatory universe, "It is my ultimate aim", he says, "to seduce and transport the viewer into space of these pictures while simultaneously revealing the mechanics of that seduction." Recently he has also written that his investigations may be seen as an "inquiry into utopia/dystopia – framed by artifice but motivated by the desire for the real – (which) has turned out to be the primary subject of my work". He is represented by the White Cube gallery in the UK and the James Cohan Gallery in the USA. His paintings have been the subject of museum and gallery exhibitions world-wide. The painting above is titled, "Echo, Wow and Flutter," 2000; leaves, pills, photocollage, acrylic, resin on wood panel. Collection: Albright-Knox Art Gallery, Buffalo. Copyright the artist/Courtesy James Cohan Gallery, New York/Shanghai.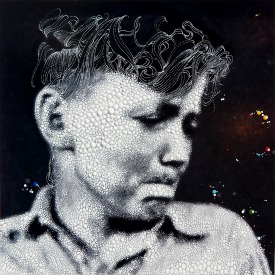 Sebastiaan Bremer has developed a unique process that involves the direct manipulation of photographs, while they alternatively alter, transform and elevate specific familial imagery. A veteran of over twenty solo exhibitions, his work has been exhibited in many prominent museums and galleries including Air de Paris in Paris, France, and LACMA in Los Angeles, California. His work has been featured in publications including October, Harpers, and Artforum. Bremer hails from Amsterdam, the Netherlands, but has been based in New York since 1992. The print on the left is titled, "Egmont #11," 2011; inks and acrylic on c-print.