Spotlight on Anthropology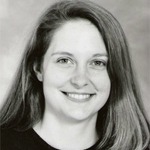 As the new Chair of the Department of Anthropology at the University of Vermont, one of the things I most enjoy talking about with students, majors, parents, and colleagues is the following fact: we are one of the largest undergraduate-only departments of anthropology in the country. What does this mean for our students? It means that they get more time in the field, more hands-on time in the lab, more research assistant experiences, more independently designed projects, and more exposure to faculty in general. This extra exposure to the real work of anthropologists allows our students to go on to be more successful in the wide range of career paths that they ultimately choose.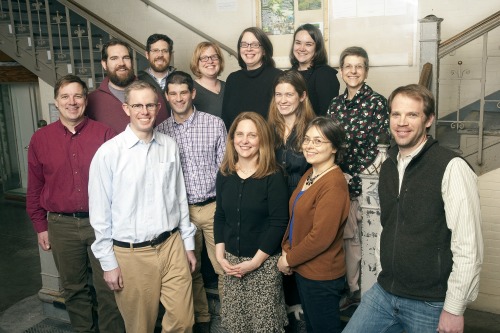 Back row (left to right): Scott Matter, Luis Vivanco, Jennifer Dickinson, Elizabeth Smith, Teresa Mares, and Cindy Longwell
Middle row (left to right): John Crock, Jonah Steinberg, and Emily Manetta
Front row (left to right): Benjamin Eastman, Deborah Blom, Jeanne Shea, and Scott Van Keuren
The Anthropology Department has experienced a very exciting period of growth over the last few years. We've gained a number of new faculty across the four traditional fields of our discipline: cultural anthropology, biological anthropology, archaeology, and linguistic anthropology. In 2011, the department welcomed new faculty member Teresa Mares, whose work focuses on the Anthropology of food and food systems. We are also hosting a new two-year lecturer in the department, Scott Matter, whose focus on environmental anthropology in Kenya has allowed him to teach a range of courses with foci on the anthropology of Africa. We continue to look toward the future as we hire a new professor in archaeology for the upcoming academic year. These new faces and exiting new research programs have meant that the department has been highly active in the scholarly community, both within and outside the university. Inspired, hands-on teaching, interdisciplinary collaboration, and collaboration with student researchers has been the hallmark of the Anthropology Department in recent years.
The world is our laboratory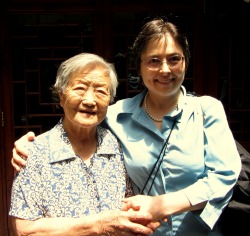 Anthropologists from UVM have been found all over the world in recent semesters, exploring an incredibly diverse range of cultures and questions. Professor Jeanne Shea (pictured) recently spent her sabbatical conducting Fulbright-funded research in Shanghai, China on spousal elder caregivers. Rob Gordon is currently in South Africa, working on a project "Plunder, Pillage and Poaching in southern Namibia." Jennifer Dickinson plans to travel to Ukraine this coming summer, funded by a Research Awards for the Natural and Social Sciences (RANSS) from the College of Arts and Sciences, to conduct participant observation at a factory run by deaf workers. In other RANNS-funded work, Elizabeth Smith spent the spring and summer of 2012 in Cairo, Alexandria, and Aswan, Egypt doing follow up research on her book Nubian Nostalgia, and beginning a new longitudinal ethnographic study on the use of induced lactation in orphan adoption among Muslim Egyptians. Deborah Blom took two field trips to Moquegua, Peru to study age-related changes and trauma in skeletal remains in her ongoing research on the ancient Tiwanaku state. Jonah Steinberg also travelled to Marseille, France, as part of a growing new project on Romani ("Gypsy") populations and questions of Roma in public space. Closer to home, Scott Van Keuren has been presenting and publishing his recent NSF-funded archaeological research in Arizona while also working on the early stages of a forthcoming book, Ceremony in the Ancient Southwest. Emily Manetta's research continues to focus on questions and similar constructions in Hindi-Urdu and in Kashmiri. In her most recent work, including a chapter in an edited volume as well as an article in the journal Syntax, she is pushing the boundaries of empirical work in these languages, examining constructions that are well-known in more familiar languages but are less well-understood in Indic. Benjamin Eastman is looking forward to traveling to Cuba in order to begin a new project examining the rise of entrepreneurialism in Cuba since 2010. Finally, Luis Vivanco just learned that he received a Fulbright Award to spend part of his sabbatical during 2014 in Bogotá, Colombia, and his new book Reconsidering the Bicycle: An Anthropological Perspective on a New (Old) Thing (Routledge Press) will be published this month.
Collaborating across the university
In the spirit of recent initiatives within the College of Arts and Sciences, the Anthropology Department also has increased collaboration with faculty from other departments and colleges across the university. For instance, Professor Teresa Mares is currently engaged in two local research projects: a collaborative and community-based study of food access in Chittenden County funded by the UVM Transdisciplinary Research Initiative in Food Systems, and a newer project on citizenship and labor in Vermont's dairy industry. She also has been teaching classes contributing to this work, including "Food, Culture, and Politics" and "The Anthropology of Food and Gender."
Collaborating with student researchers
As a department, we place a very high value on collaboration with our undergraduate student researchers. Fortunately, we have the opportunity to take a number of students out into the field with us each year. For instance, Jennifer Dickinson will be bringing student Max Roberts ('14) to Ukraine to assist in her research there this summer. Back at UVM, Elizabeth Smith worked with Julia Dwyer on her Egyptian Induced Lactation Adoption project.
In addition, many of our archaeology students receive hands-on experience and training through our Consulting Archaeology Program (CAP) run by John Crock. This coming summer, Professor Crock looks forward to taking a group of students on a field school to Anguilla. Scott Van Keuren has also submitted several papers co-authored with UVM undergraduate students Grace Cameron ('09) and Mark Agostini ('12) that present new findings on fourteenth-century pottery technology and use. Emily Manetta supported three student papers from her undergraduate seminar on questions that were presented at professional linguistics conferences around the country. Read more on student research.
Student-led projects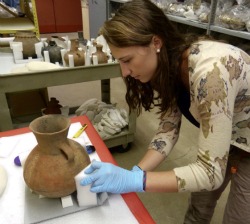 As well as working directly with our students, our connections regularly facilitate many other opportunities for our students. For example, Zoe McKenzie ('14) recently traveled to Peru to continue her human osteological training and is now preparing her research on the Tipu Maya of Belize. Joseph Friedman ('14) carried out summer training at an NSF-REU site in Bioarchaelogy at Notre Dame University where he used a mass spectrometer to do dietary reconstruction on dental remains from Late Bronze Age Palestine. Pictured at left is Nicole Bull ('15)who interned this summer at the University of Pennsylvania Museum of Archaeology and Anthropology. One of graduates recently capitalized on her experiences at UVM; this month Leigh Riley ('11) leaves for a yearlong trip to study mountain gorillas with researchers from the Max Planck Institute for Evolutionary Anthropology in Bwindi Impenetrable National Park, Uganda. We look forward to hearing about her experiences.
Student experiences in Vermont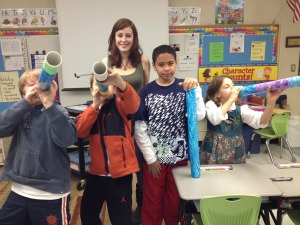 While at UVM, students often choose to experience Vermont as their classroom and give back to the community. This year, Kathryn Martin ('14) is serving as an intern for Vermont Work for Women, where she is helping to facilitate their Rock and Adventure programs for local middle school girls. Joy Tatem (pictured), the president of our AnthroClub, brought anthropology to local school children through a mini-AnthroClub program. Joe Friedman and Zoe McKenzie ('14) also served as interns at the Office of the Chief Medical Examiner.
The Consulting Archaeology Program
The department's Consulting Archaeology Program (CAP), directed by Professor John Crock, conducts archaeological studies in advance of projects subject to state and federal regulatory review. CAP recently completed work at a Native American site in South Burlington near the Burlington International Airport on behalf of the Vermont Air National Guard. The site, a pre-contact village dating to approximately A.D. 1300, contained rare evidence of corn cultivation and food storage, along with work areas where stone tools were produced. CAP also has collaborated recently with the Green Mountain National Forest and Vermont Archaeological Society to investigate a stone quarry located in the Green Mountains used by Native Americans since they first entered Vermont some 12,000 years ago. CAP archaeologist and SUNY Albany PhD candidate, Francis "Jess" Robinson, has also been teaching a course in Native North America while completing his dissertation exploring Northeastern Early Woodland mortuary ceremonialism and interregional exchange, approximately 2,000-3,000 years ago.
Transitions
With the generosity of those who have supported the department, all this growth and energy has meant that Anthropology is outgrowing its current space up on the fifth floor of Williams Hall. We are working hard with Dean Antonio Cepeda-Benito to find solutions for this and to enhance our teaching facilities. We will keep you posted as we move forward.
Our alumni and long-time colleagues will be sad to know that Professor Steve Pastner, who taught in our department from 1970 to 2002, passed away in December. His obituary, published in the Burlington Free Press, has a link to photos of his bronze sculptures, which you may remember seeing in the department. His independent spirit and strength will be missed by many.
Stay connected
I close with an invitation to our alumni and friends. We have recently developed Facebook and LinkedIn pages and invite all to connect across the miles. We hope to see you there.