Bowden Watershed Research Lab

Vermont Stream Flow Monitoring
Joint Vermont Agency of Natural Resources(VTANR) and University of Vermont(UVM) Project
Meredith Clayton, MS Graduate Student
Breck Bowden, Project Leader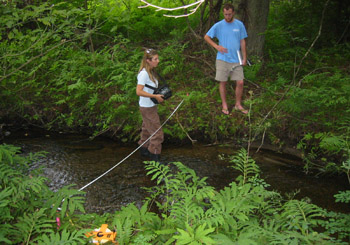 The goal of this project is to develop precipitation and stream flow records for stormwater-impaired and attainment watersheds in Vermont for use in current and future management, permitting, policy, and research efforts.
In 2004 the Vermont Water Resources Board Stormwater Docket convened a group of interested stakeholders who collectively decided that simple hydrologic characteristics of stream flow could be used to target actions to reduce stormwater pollution. Based on this decision, the Vermont Agency of Natural Resources has begun the process of completing Total Maximum Daily Load (TMDL) analyses for stormwater impaired streams using stream flow estimates produced by a simple rainfall-runoff model (P8). Although the model has been validated, the lack of real hydrologic data presents a serious challenge to validate any hydrologic model or to select hydrologic targets for decision-making. ANR has sought to address this challenge by contracting with with the Bowden Watershed Research Lab to obtain multi-season gauged precipitation and stream flow data for impaired and attainment streams in Vermont.
A total of 26 watersheds (15 impaired and 11 attainment) have been monitored since 2006 during the ice-free season (roughly early May to December). At each station a stage recording device has been installed to calculate discharge and a tipping bucket gauge has been installed to calculate rainfall. These data have been acquired at 5-minute intervals. Discharge rating curves have been produced for each station, each year, using the USGS velocity-area profiling method.
A Digital Archive for project reports and data collected from 2006-2008 can be accessed from the menu at the left. Data for the 2009 year will be posted by mid-2010. This data is free to be used by anyone. However, neither UVM nor ANR will be responsible for the use or misuse of this data by other parties. Users are encouraged to read the project reports and "Read Me" files in the digital archive to understand the values and limitations of this data. Contact Breck Bowden if you have quesitons about this data.
Contact:
Breck Bowden

Last modified January 22 2014 01:54 PM