Bowden Watershed Research Lab

Freshwater Vital Signs Monitoring for National Parks in the Northeast Temperate Network (NETN)
Eric Davis, current MS graduate student thesis research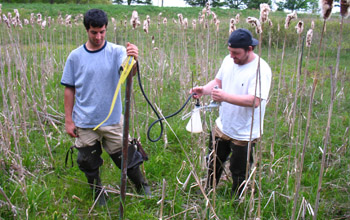 The Northeast Temperate Network (NETN) was established by the National Park Service to monitor ecological conditions in eleven parks located throughout seven northeastern states. The vital signs are "a subset of physical, chemical, and biogeochemical elements and processes of park ecosystems that are selected to represent the overall health or condition of park resources" (National Park Service 2008). Examples of vital signs include forest health, climate, breeding birds, and water quality.
Researchers at the University of Vermont have been monitoring water quality within the network since 2006. The majority of that work has consisted of implementing the network's stream and pond monitoring protocol. This entails monthly visits to the significant aquatic resources within the network, excluding Acadia National Park, which totals 22 streams and 3 ponds. At each site, researchers measure water quality parameters including temperature, conductivity, pH, and dissolved oxygen. Water samples are collected from each site twice a year and sent to a laboratory for more intensive chemical analysis. In addition, stream discharge measurements, essentially a measure of water quantity, are taken at each stream site.
The freshwater vital signs monitoring program has also contained a consistently expanding wetland monitoring component. Researchers have installed wetland monitoring wells in Saratoga National Park and have obtained water chemistry data from them for two full field seasons. Currently, researchers are testing out other methods to assess wetland health, including installing pressure transducers that obtain detailed hydrologic data and using soil pore sippers to obtain water samples over a greater spatial extent and with less environmental impact. In addition to methods testing, UVM researchers are also conducting an inventory of the network's wetland resources. The goal of these expanded efforts is to develop a wetland monitoring protocol that can be coupled with the existing stream and pond monitoring protocol.
Vital Signs monitoring provides scientifically sound information, collected uniformly across a network, to a variety of stakeholders including natural resource managers, researchers, and the general public. The data collected is used in a multitude of ways, it helps to inform park planning decisions, evaluate the effectiveness of management decisions or restoration efforts, provide early warning of potential threats, and promote public understanding of park resources. The National Park Service's Vital Sign Monitoring Program has a long-term vision. With the program being relatively young, monitoring at this point provides baseline data indicative of the condition, or current state, of the park's resources. However, as the dataset grows larger, over time scientists and managers will be able to identify important trends in the continuous data.
Last modified December 09 2009 12:36 PM